Team London Ambassadors hunt for a world record title
The Mayor's Team London Ambassadors participated in a giant treasure hunt across the capital, as part of London & Partners' World Record London, on Saturday 23 June, to secure a Guinness World Records title.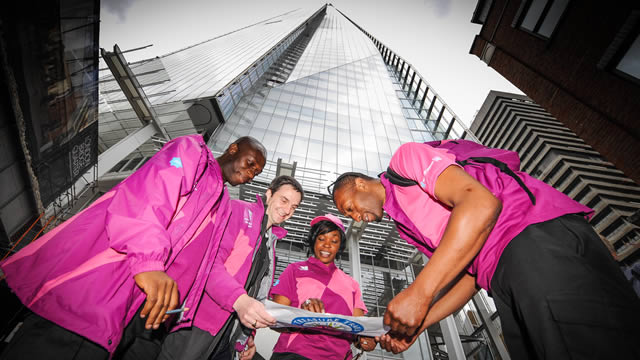 The Guinness World Records title for the Largest treasure hunt game stood at 308 people achieved in San Diego, California, US and the Team London Ambassadors broke this record with 466 people in their quest to hunt for clues at some of London's iconic attractions and monuments.
London smashed its 17th record in its year of celebration with World Record London coming one step closer to becoming a multi-record-breaking city.
Presented to the world as the face of today's London, the carefully selected Ambassadors participated in a hunt around the city. They represent the capital's diversity - independently selected from a vast range of London backgrounds and communities.
The Team London Ambassadors will volunteer throughout the Games period, sharing a passion for the capital as they welcome the world to London, and an unforgettable Olympic Games.
The Mayor of London's scheme sought and trained the Ambassadors who will be stationed at 43 city sites for the 55 day period from just before the start of the Olympic Games to the closing ceremony of the Paralympics on 9 September.
David Huse, Head of Programme, Team London Ambassadors, says, "This weekend's hunt was the perfect opportunity for the Ambassadors to put their training into practice and join team members in seeking for the hidden treasures of the capital. In warming up for their games time roles they had a chance to be part of something truly unique."
Kathy Brown, volunteer and treasure hunt organiser, says, "Playing my part in Team London Ambassadors this summer is a massive privilege. It's an opportunity to give something back to the city which has provided me with so much business and pleasure over the years. What better than to offer Treasure Trails' expertise in order to create a memorable day for my fellow volunteers; one which will help us all celebrate London's gems – the fascinating, cool things which are around us all the time, if we will only open our eyes and discover them."
Notes to Editors
About Team London Ambassadors
8,000 dedicated, enthusiastic and knowledgeable volunteers who are the face of today's London and come from a range of backgrounds and communities.
What will they do? They will welcome the world to London during the Olympic and Paralympic Games, providing advice and guidance to visitors and Londoners as people move around the city at Games time. They will volunteer for a maximum of five hours per shift and up to six consecutive days.
Where will they be based? Around London at one of 43 visitor locations including landmarks, visitor hot spots, travel hubs and big screen live sites - examples are Heathrow Airport, Trafalgar Square, Oxford Street and Wimbledon.
Uniform - includes a polo t-shirt, trousers, jacket and bag. They'll also be wearing trilbys, a classic British trilby hat, which has been received with great enthusiasm by Ambassadors of all ages.
Team London is the Mayor's ambitious programme to mobilise an army of volunteers across the capital to improve life in London through programmes aimed at reducing crime, increasing youth opportunities and improving quality of life by cleaning and greening London and building stronger neighbourhoods.
About Treasure Trails Ltd.
Treasure Trails Ltd was established in 2005 to provide treasure hunt based activities for members of the public and for organisations. The core of the business is the Treasure Trail in which Trailgoers complete a Murder Mystery, Treasure Hunt or Spy Mission in their own time and at their own pace, following set directions around the best historic and scenic sights of a location. Treasure Trails operates as a franchise and now has over 1000 Trails and a network of 39 Licensees running Treasure Trails all over the UK. There are 30 Trails in Greater London alone. For more information visit www.treasuretrails.co.uk For further information please contact Kathy Brown – Area Manager for London for Treasure Trails Ltd. London@treasuretrails.co.uk or 01872 263692
Contact
For more media enquiries contact:
Sunita Sharma or Jo Geneen at London & Partners – press office
ssharma@londonandpartners.com  - 0207 234 5844
jgeneen@londonandpartners.com - 0207 234 5842