London is home to World's oldest bike shop
London & Partners, as part of World Record London celebrates Sutton's Pearson's Cycles the World's Oldest Bike Shop - established in 1860 and still trading today over 150 years later.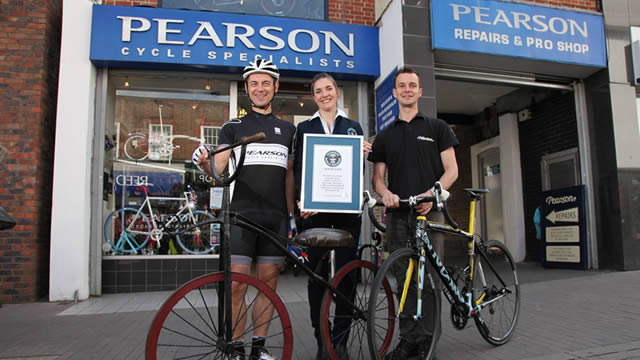 World Record London sees the most exciting capital in the world attempt over 20 Guinness World Records to make London a multi record-breaking city. Guinness World Records, the universal authority on record-breaking achievement, today presents Pearson's Cycles the official title as it continues to trade and maintain the wheels it has become famous for.

The Pearson family business can be traced throughout history, from the production of Penny Farthings, keeping the forces on wheels throughout the First and Second World Wars, to the introduction of the more modern mopeds and motorcycles in the 1950s and '60s. Pearson Cycles also saw the birth of the mountain bike and its own acquisition of the Raleigh '5 star' status in the 1980s.

Today, brothers Guy and William Pearson represent the shops fifth generation, still upholding the legacy of 1860 in the twenty first century store. They now have opened another shop in Sheen, London supporting the novice and expert performance cyclists, whilst Sutton still caters for families, commuters and performance alike.

William Pearson, commenting on the new award, says, "We are delighted that Pearsons has been recognised by Guinness World Records as the oldest bike shop in the world under the same family in the same place. We love the cycle business and thank all of our loyal customers, staff and friends past and present, who have supported us to reach this landmark award.

"The Olympic Games in London will put cycling in the eyes of the world and we hope spur on the next generation to be involved in this great sport. We also have the responsibility to continue to make our business inspirational for our children to retain this world record! Thank you Guinness World Records. "

Following the introduction of 8,000 Barclays Bikes onto the streets of London in July two years ago, the city seems to be more mobile than ever and cycling has become a staple of London's transport system.
With plans afoot for London to host a world class two day festival of cycling next year in summer 2013, which will attract visitors, generate jobs and showcase the city beyond the games, there has never been a better time to get on your bike in London.
Notes to Editors
Contact
Media Enquiries:
Sunita Sharma or Jo Geneen
London & Partners – press office
ssharma@londonandpartners.com  - 0207 234 5844
jgeneen@londonandpartners.com - 0207 234 5842