London tops the list for European business investment, according to Ernst & Young
London has triumphed as the European capital of business once again after it came top of the list in Europe for inward investment for the sixth time running, according to Ernst & Young's European Investment Monitor.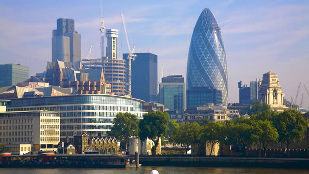 Not only attracting more projects than any other city in Europe, London also enticed more projects than all but four countries, holding its position as the most attractive destination for launching a foreign investment presence in Europe with a 13% increase on 2010 figures.
As well as being the chief city for the number of projects established, London also continues to lead the way in job creation from foreign direct investment (FDI), beating every other city in Europe. Hitting the number one spot for the second time running, and seeing a growth of 13% year on year, London sits streets ahead of competitors Dublin and Barcelona, which have both registered a decline, and Berlin, although seeing growth, still sits behind at 7th place, with Paris falling out of the top 10 entirely down to 33rd place for 2011.
The Mayor of London, Boris Johnson, who has confirmed his number one priority as securing jobs for Londoners and driving economic growth since taking up a second term said: "More and more major international businesses are realising that to compete in the global market it is vital to have a base in London. In choppy financial times this is very good news for the London economy and for the employment prospects of Londoners. This is a landmark year for the capital and with the gaze of the world upon us we must seize the opportunity to demonstrate why this city is the best place on earth to do business and invest."
Gordon Innes, CEO of London & Partners said: "We are delighted that London has retained its position in the top spot for foreign direct investment across Europe. At London & Partners, we have been working closely with leading international companies to encourage them to move into or expand their presence in the London market. International firms increasingly see London as the world's capital for business, with unrivalled access to a talented workforce, capital markets and the world's most creative capital where ideas and trends are born."
Echoing London's significance in the business and ICT spheres, the business services and software sectors topped the list for the city's inward investments with an increase of 27% and 52% respectively. Evidence of London's strengthening reputation as a digital nucleus and a centre for talent and creativity has blossomed through the focus that has been given to the capital's innovative hub, Tech City, where a wave of new companies have chosen to set up, whether a start-up, incubator or established global company.
With the spotlight firmly on London in the run up to the Olympic Games, London & Partners continues to work closely with leading companies across the globe to encourage and assist them to set up in the London market, ensuring a long-term economic legacy from Games-related infrastructure and regeneration programmes.
Notes to Editors
As we head towards London 2012, the Olympic and Paralympic Games have already delivered contracts worth £5.4 billion, and over the longer term, London's economy is projected to grow by £155 billion by 2025 moving it up from 5th to 4th rank of the world's richest cities. London is also transforming itself to accommodate for a 1 million growth in population over the next two decades, and to remain Europe's number one place to do business, investing several dozens of billion pounds to improve the capital's infrastructure. Among the largest and most exciting development projects that are or will be taking place in London are Crossrail, King's Cross, Stratford City, Canary Wharf extension and the 2012 Olympic Park.
About London & Partners
London & Partners is the official promotional organisation for London. Our company attracts and delivers value to business, students and visitors. London & Partners is a not-for-profit public private partnership, funded by the Mayor of London and a network of commercial partners.
Our remit is to drive leisure and business visitors as well as bidding to secure major events in London, to unlock the city for overseas businesses who want to set up or expand in London and to promote the capital's world class universities to international students.
Our intention is to work in partnership with organisations in London and across the world to deliver our goal - that London be globally recognised as the best big city on earth
For more information visit www.londonandpartners.com 
Contact
Kirsten Ferguson
PR Manager – Business Tourism, FDI & Major Events
+44 (0)20 7234 5861