Thames Diamond Jubilee Pageant crowned with a Guinness World Records title
London is today celebrating as a staggering fleet of 1000 boats took to the River Thames, 670 of which achieved a new Guinness World Record for the world's Largest parade of boats as part of the Thames Jubilee Pageant, to mark the Queen's Diamond Jubilee.* 
London has smashed a previous record of 327 set by a boat flotilla in Germany in April 2011.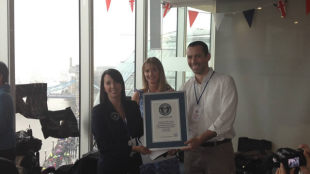 The formal river procession marked the capital's 16th record breaking challenge as part of World Record London – London & Partners' attempt to break 20 world records for the capital.
Gordon Innes, CEO, London & Partners commented: "London always puts on a good show and today has been no exception, the Queen's Diamond Jubilee celebrations and the Thames River pageant have captured the city's celebratory mood and ended on a high with London smashing yet another world record. With the Olympic opening ceremony now just six weeks away, I have no doubt those watching will want to come and be part of the action this summer."
The procession has celebrated London's rich royal heritage by running through the heart of the capital on the River Thames.  The flotilla started up river at Battersea Bridge and finished down river of Tower Bridge. The fleet has encompassed the biggest collection of historic vessels ever assembled on the Thames including the Amazon, a boat which took part in Queen Victoria's Diamond Jubilee in 1897 as well as The Royal Barge carrying The Queen, The Duke of Edinburgh and other members of the Royal Family.
In order to break the Guinness World Records title previously set in April 2011 by Günter Wichert and the Sport Skippers of Bremerhaven in Bremerhaven, Germany, the fleet have met stringent regulations covering a minimum distance of two miles and to maintain a 'flow'; no more than two boat lengths apart at any time.
World Record London is a calendar of unique and one-off record-breaking events taking place around the capital from now until July 2012 celebrating the capital's most exciting attractions, venues, events and activities with the aim of crowning London as a multi record-breaking city and the best big city on earth.
Notes to Editors
* Over 1000 boats took part in the pageant, working boats and stationary boats were not counted by Guinness World Records for the Largest Parade of Boats title

World Record London
World Record London will see the most exciting capital in the world attempt over 20 Guinness World Records to make London a multi record-breaking city. To celebrate the magical year as host city of the 2012 Olympic and Paralympic Games, London & Partners' campaign will highlight unique and one off events available to Londoners and everyone visiting the capital between now and July 2012. There has never been a better time to visit London - to check out what's coming up as part of World Record London and get involved visit www.visitlondon.com/worldrecordlondon
Contact