Londoners Jump for Guinness World Record attempt
Clare Newton, a Hackney artist, hopes to break a new record for the world's Largest composite photography exhibition as part of the London & Partners' World Record London. The record is being adjudicated by Guinness World Records and is exhibited at ExCel London, 1 - 9 June.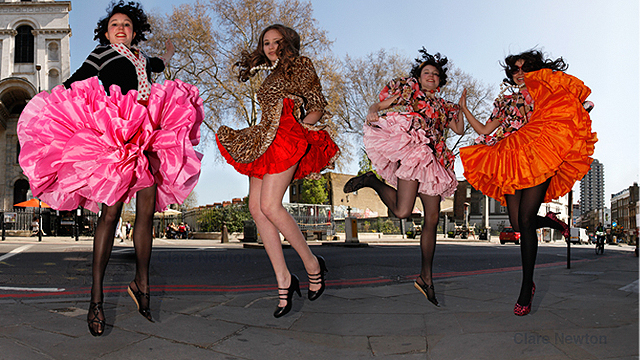 The photographic montage measures just under one kilometre by two metres and consists of over 109,000 images of people across London jumping against London backdrops. The record will recognise the number of photographs, displayed in a physical exhibition, which have been combined or modified using digital technology.
As London's largest events venue the ExCel London creates a perfect flexible exhibition space for this unique photographic exhibition.
The Jump4London project, which has taken over 15 months to complete saw Clare Newton travelling around London and the home countries, organising 87 events for people to take part in the world record attempt and jump. The participants include a huge cross section of London life, with members from the Paralympic teams, students, tourists, famous boxers, some in costumes and even one person on a mono bike leaping into the air.  
Clare said "I had the pleasure of meeting so many interesting people, from all walks of life and who have felt inspired to take part. I tried to capture something about their personality and their zest for life as they spring into the air – for one split second I can see the real person light up. The jump4london project was conceived to be a big public participation event and working with London & Partners, Guinness World Records and ExCel will bring it to an even wider audience."
Gordon Innes, CEO, London & Partners says, "I am delighted that this extraordinary photo exhibition is part of World Record London. What better way of showcasing London's talent, creativity and diversity through this one-off and unique piece of art that tells the story of London - all set against the capital's ever evolving landscape."
The project is supported by ExCel London, Agfa, Creative Place, Amari Digital Technologies, Delta, DTP.
The free exhibition is held at ExCel London – Custom House E16 1XL 1-9th June 2012 10am – 6pm. For further information visit http://www.jump4london.co.uk/
Notes to Editors
About World Record London: 
World Record London will see the most exciting capital in the world attempt over 20 Guinness World Records to make London a multi record-breaking city. To celebrate the magical year as host city of the 2012 Olympic and Paralympic Games, London & Partners' campaign will highlight unique and one off events available to Londoners and everyone visiting the capital between now and July 2012. There has never been a better time to visit London - to check out what's coming up as part of World Record London and get involved visit www.visitlondon.com/worldrecordlondon
Contact
For more information contact:
Sunita Sharma or Jo Geneen at London & Partners – press office
jgeneen@londonandpartners.com - 0207 234 5842
ssharma@londonandpartners.com  - 0207 234 5844