London Universities Top for International Students
 Ninth year for London's top ranking  
 China and India continue to lead on student numbers
 More students from USA, Italy, Germany, Spain & France than ever before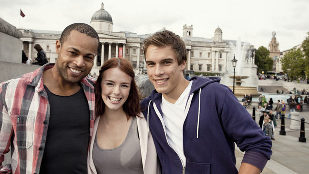 London & Partners, the official promotional organisation for the capital, which runs studylondon.ac.uk reveals that international students have increased by nearly 5% in 2011.   
For the ninth year in a row London has retained the lead with 108,710 students in the capital, more than New York, Melbourne and Sydney.   
China has regained its place as the leading international student market in London, registering a 128% increase in student numbers in the last five years with 10,095 studying a range of disciplines across the 42 London universities. Students from Hong Kong also account for an additional 2,620 studying in London.
However, India remains the fastest growing market, with student numbers increasing 174% over the five year period. In 2011 9,185 Indian students came to the capital to study.
Growing numbers of student are seeking out creative arts & design courses, which have now overtaken social studies as the second most popular subject area. Business and administrative studies continues to be the most popular subject area for Asian students and collectively these three subjects comprise the top three subject clusters studied in London by international students. Engineering & technology and computer science courses complete the top five most popular subjects courses from Asian students.
Gordon Innes, CEO London & Partners commented: 'London is the world's knowledge capital and these figures are a testament to that fact. London welcomes international students from over 210 countries, making it a perfect place for them to establish a global network that will last them their lifetime as alumni and ambassadors for London.
International students account for just over 25% of the total London student population, and the capital is home to nearly 25% of all international students studying in the UK. Not only do international students add to London's diversity and talent pool, they also generate over £2.5 billion in income to the London economy each year.
Contact