International Students Break Guinness World Records title for Largest Mortar Board Toss
295 international students have become world record holders in London as they broke the Guinness World Records title for the Largest Mortar Board Toss.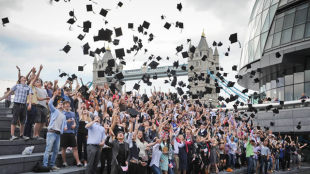 Students completed the record breaking attempt, which is the 14th record in a series of 20 being broken by the capital this year, as part of World Record London. The record was achieved at More London and saw 295 students simultaneously toss their mortar boards to celebrate London universities.    
The attempt today recognised the growth of international students studying in London, which this year reached over 108,000 – more than any other city in the world.
Gordon Innes, CEO London & Partners, the official promotional agency for the capital commented: 'London continues to attract a huge diversity of students from all over the world to study at our first class universities. Today's record was about bringing these talented students together to celebrate their achievements in London.'
Students at today's event represented more than 100 different nations and over 30 London universities including: King's College London, UCL, Imperial College, London Business School, University of Greenwich and University of the Arts London.
International students account for over 25% of the total London student population, and the capital is home to nearly 25% of all international students studying in the UK.   
Representing a huge opportunity for London's economy over £2.5 billion is generated by international students in London every year.
London & Partners, which runs the website studylondon.ac.uk has set up the London Ambassadors Alumni Network, which international students who have studied in London can join via LinkedIn and stay in touch.
For more information about studying in London see www.studylondon.ac.uk
For more information about World Record London see www.visitlondon.com/worldrecordlondon
Notes to Editors
Contact