Cast of Downton Abbey award Guinness World Records title to Ealing Studios
As the record-breaking Downton Abbey programme begins filming its third series at Ealing Studios, their filming home has a new reason to celebrate with a Guinness World Records title of its own as the Oldest continuously operating film studio in the world.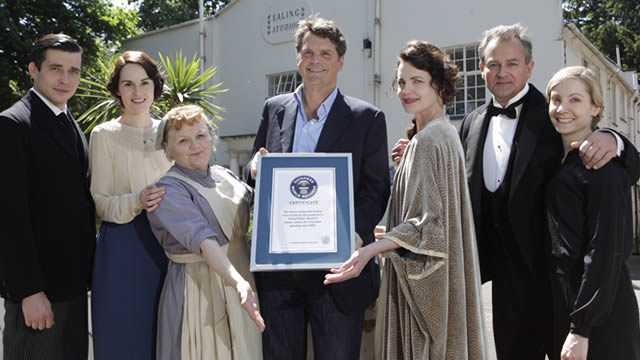 The cast and crew of Downton Abbey were on hand to honour the studios for this award as part of the World Record London - London & Partners' attempt to break 20 world records for the capital before this summer.
Gordon Innes from London & Partners commented: "After 110 years of film-making this award marks the contribution this London icon has produced not only for world cinema, but also our economy.  Our capital continues to be featured in some of the most inspiring and creative films and from our research we know that one in ten overseas visitors cite film as a reason to come to the capital, generating £1.9 billion in revenue each year."
Situated in Ealing, west London, the studios have been making some of the most iconic and classic British cinema and films for over a century.  From the first screen version of Hamlet in 1912, through to the 1940's and 1950's classics, The Ladykillers, The Lavender Hill Mob, Passport to Pimlico, and Kind Hearts and Coronets as well as modern films such as The Importance of Being Earnest and the St Trinian's series, this working studio continues to develop and nurture creative talent in the capital.  
As well as producing its own films Ealing Studios is also home to a variety of film and television productions, including Jonny English Reborn, Tim Burton's Alice In Wonderland and Downton Abbey. Ealing Studios' permanent community ranges from Andy Serkis' performance capture studio The Imaginarium, to the MetFilm School, Racing UK and Timeline Television, as well as a wealth of other film and media businesses.
Outside of the US, London is the busiest film production city in the world. There are over 13,000 filming days recorded in the capital every year, with an average of 35 crews on the streets of London every day.
As a filming location, London is well known for its versatility and it has doubled for locations including Vietnam (Full Metal Jacket), Paris, Australia and Mombasa (Inception) or Ancient Rome (Gladiators).
Notes to Editors
About London & Partners: London & Partners is the official promotional organisation for London attracting and delivering value to businesses, students and visitors. Our remit is to drive leisure and business visitors as well as bidding to secure major events in London, we can unlock the city for overseas businesses who want to set up or expand in London and we promote the capital's world class universities to international students.
Contact
Media Enquiries: Sunita Sharma - ssharma@londonandpartners.com / +44 207 234 5710