London Blows Its Own Trumpet in Latest Record Attempt
London has today broken another record as part of World Record London, London & Partners' attempt to break 20 world records for the capital before this summer.  The Guinness World Records title for the Longest Line Of Fanfare Trumpeters was broken today at Wellington Barracks, by a group of 91 trumpeters, made up of seven different military units, decked in full ceremonial uniform.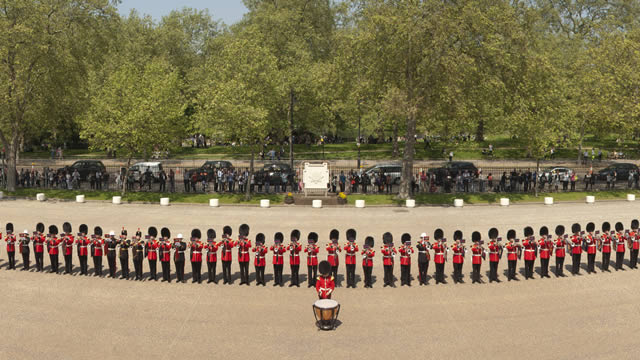 The successful record attempt was staged to mark the run-up to the Queen's Diamond Jubilee, less than two weeks away. The event which took place in front of an audience including key local political figures, celebrated iconic Victoria. Performed at the world renowned Wellington Barracks setting – globally synonymous with the Changing the Guard ceremony – the trumpeters achieved their record, playing the popular piece, Wedding Fanfare, which resonated all the way to Buckingham Palace.
Gordon Innes, CEO, London & Partners said: "Changing the Guard is one of London's most iconic attractions, drawing thousands of tourists each year – what better way to break another record than by celebrating this fantastic location and ceremony."
Ruth Duston, Chief Executive of Victoria BID, said: "This was a wonderful event, showcasing the wealth of cultural activity Victoria has to offer as well as celebrating our close links with the Royal family. The glorious Wellington Barracks setting is just one of many iconic tourist hotspots in the SW1 area."
Westminster City Council's deputy cabinet member for business Cllr Cameron
Thompson, who attended the event, said: "In a year of unique events to mark the Diamond Jubilee, this world record bid promises to be of lasting significance. It's a fantastic and highly original way for this part of central London, with its very close Royal connections, to celebrate Her Majesty's six decades on the throne."
This unique ceremony at Buckingham Palace dates back to 1660 when Charles II was restored to the throne and troops were tasked with the privilege and duty of guarding the Sovereign and the Royal Palaces. In 1837 the barracks adjacent to Buckingham Palace were rebuilt and renamed Wellington Barracks after the Duke of Wellington, and to this day Guardsmen march from Wellington Barracks to guard the two Royal Palaces with due pomp and style.
Notes to Editors
Richard Abbott on 020 7612 8492, ra@londoncommunications.co.uk
About Victoria Business Improvement District (Victoria BID) Victoria BID provides a platform for businesses to work together to improve and enhance the urban context of Victoria. Guided by local businesses and organisations,
the Victoria BID team help shape Victoria's future development. A full programme of initiatives, services and events will be delivered by the BID which will complement new proposals for regeneration that will help reposition and strengthen Victoria's offer as a central business district over the next decade. 
About London & Partners 
London & Partners is the official promotional organisation for London. Our company attracts and delivers value to business, students and visitors. London & Partners is a not-for-profit public private partnership, funded by the Mayor of London and a network of commercial partners.
Our remit is to drive leisure and business visitors as well as bidding to secure major events in London, to unlock the city for overseas businesses who want to set up or expand in London and to promote the capital's world class universities to international students.
Our intention is to work in partnership with organisations in London and across the world to deliver our goal - that London be globally recognised as the best big city on earth.
For more information visit www.londonandpartners.com  
Media Enquiries: Sunita Sharma - ssharma@londonandpartners.com / +44 207 234 5710
Contact