Visit Stratford? App-solutely!
Putting itself on the digital map, Stratford in the East End of London has today launched a free mobile phone app highlighting the vast array of things to do and see for visitors to this newly regenerated part of the city that will be seen by billions this summer as it plays host to the 2012 Olympic and Paralympic Games.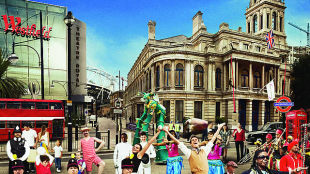 Not only does the Visit Stratford app provide information for Games visitors, it also includes over 500 comprehensive listings for Stratford's shops, bars, restaurants and hotels with up-to-date events and travel information. This free app is set to be the most useful guide for visitors, tourists and local residents.
Created by Stratford Renaissance Partnership and the London Borough of Newham in collaboration with London & Partners – the Mayor of London's official promotional organisation – the 'Visit Stratford' app is a 'must see' guide to this remodelled part of the city that has fast become a commercial and cultural hub ahead of London 2012.
Gordon Innes, CEO of London & Partners said:
"As the official promotional organisation for London, London & Partners is delighted to have collaborated with the Stratford Renaissance Partnership and the London Borough of Newham to create a comprehensive digital guide to this exciting part of London.
"Stratford has lots to offer visitors from its diverse heritage to its historical and new visitor attractions. The Visit Stratford app celebrates this new pocket of London that is shifting the centre of the city eastwards as it hosts the greatest event on earth this summer."
Cathy Low, Director of Stratford Renaissance Partnership said:
"The whole world will soon get to know Stratford; but the Visit Stratford app is a great way to discover it for yourself right now. As well as a guide to the area the app offers a glimpse into Stratford's future – if you think Stratford's transformation is impressive now, just wait until you see what is coming!"
Sir Robin Wales, Mayor of Newham said:
"Stratford is set to become one of the most thriving parts of London with the development of the Olympic Park, Europe's largest urban shopping centre at Westfield Stratford City and our array of arts, creative and cultural industries combining to create a vibrant and successful business, leisure and tourism destination.
"This new digital technology will help showcase the many things we have on offer to shoppers, tourists and visitors and help bring continued economic benefits to the local area."
Stratford has seen massive regeneration since London was announced as host city for the 2012 Olympic and Paralympic Games in 2005 including the opening of new hotels, restaurants and attractions as well as Europe's largest retail and leisure destination: Westfield Stratford City.
Complimented by historic Stratford town centre and the renamed Queen Elizabeth Olympic Park, Stratford has transformed into a premier visitor destination – with millions of people visiting each and every week.
The Visit Stratford app is free to download for both iPhone and Android users from Monday 14th May 2012. Download directly from the Apple App Store and Google Play or alternatively from www.stratfordlondonapp.com (the website contains an overview of the app and video).
The app has also been supported by the London Legacy Development Corporation, Lend Lease, Westfield Stratford City, UEL and the Stratford Centre providing access to the most up-to-date visitor information in this exciting new destination.
The app launch will be celebrated at a party on Tuesday 15th May from 6.30pm at Stratford Circus, Theatre Square, Stratford, London, E15 1BX featuring live entertainment, music and refreshments. To attend please RSVP to linda.evans@srpstratford.com
Notes to Editors
The Visit Stratford app includes:
 An introduction to Stratford; its history, character and its transformation
 Over 500 comprehensive listings of shops, bars, restaurants and hotels
 A guide to its key visitor attractions and what to see and do
 Interactive map with audio guide of Stratford
 Live event listings of events happening in Stratford
 Information for Olympic and Paralympic visitors
 Travel information – with live bus, tube and DLR info
 Information on living and studying in Stratford
 Digital postcards to send to your friends 
Fully social media integrated – Twitter and Facebook
Westfield Stratford City sits next to the Olympic Park and includes a cinema, bowling alley, and 24-hour casino; it has already become one of the most visited retail malls in the world.
Stratford City is complimented by the neighbouring Stratford Centre mall and the historic Stratford town centre which offers an eclectic mix of shopping and culture – including the historic Theatre Royal Stratford East and the contemporary performing arts centre, Stratford Circus.
On peak days, more people visit the Stratford Centre and Westfield than live in the whole of Derby, the English city!
One of the largest urban parks in Europe, the renamed Queen Elizabeth Olympic Park will offer a range of brand new indoor and outdoor sports venues, play areas and cycle paths, waterways and parkland, and a rolling programme of cultural and sporting events.
During the Olympic and Paralympic Games, over 7 million people will visit the Olympic Park; over 4 billion people are expected to see the Opening and Closing Ceremonies in total – a publicity value worth over £5billlion
Fixtures already planned post-Games include the Festival of Cycling in 2013; the EuroHockey Championships in 2015 and the World Athletics Championships in 2017.
Over £12.5billion has been invested in Stratford in recent years from both the public and private sector
About London & Partners
London & Partners is the official promotional organisation for London. We attract and deliver value to business, students and visitors. London & Partners is a not-for-profit organisation, funded by the Mayor of London and a network of commercial partners.
Our remit is to drive leisure and business visitors as well as bidding to secure major events in London, to unlock the city for overseas businesses who want to set up or expand in London and to promote the capital's world class universities to international students.
Our intention is to work in partnership with organisations in London and across the world to deliver our goal - that London be globally recognised as the best big city on earth.
For more information visit www.londonandpartners.com
About Stratford Renaissance Partnership
SRP brings together the key organisations working on the regeneration of Stratford. We exist to tell Stratford's story to the wider world: promoting its uniqueness, its heritage, its people and its unparalleled regeneration and development opportunities. www.stratfordlondon.info
About the London Borough of Newham
Newham is the local authority responsible for Stratford. Newham Council has a key role around developing Stratford as a visitor destination: developing, assisting and promoting the visitor economy. www.newham.gov.uk
Contact
Rupinder Virdee
Revolution Creative Agency
0208 220 3199
E.   Rupinder@revolutioncreative.eu
Images of the app are available directly from Rupinder Virdee (details above)