Diamonds are a Queen's best friend!
London will become the seat of pomp and pageantry this June, as visitors have the opportunity to join in with a once in a lifetime celebration in honour of Her Majesty The Queen's 60 years on the throne.
From Royally themed afternoon teas, insider exhibits and hotel discounts and the best of British - London really has it all.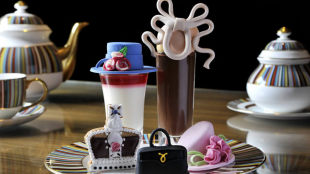 Banquets, Burgers and Bunting!
Royal tributes are gracing menus everywhere and highlights include cakes and pastries resembling memorable hats worn by the Royal Family at the Berkeley hotel, to experimental 'Chilli Queen' burgers at Byron, and plenty more afternoon teas and packages at a range of London hotels and restaurants.
Pomp and Pageants
With over a thousand vessels from all corners of the commonwealth participating and led by The Queen herself, the Thames Diamond Jubilee Pageant on 3rd June will be a highlight of the Jubilee celebrations.  A great view can be had from Millbank Towers where vistors can watch the pageant from Altitude 360's 'Gospel Music Brunch'. Another great viewing spot will be Battersea Park, where Wayne Hemmingway will be curating a very vintage festival for all to enjoy.
Exclusive Exhibitions
Giving the public exclusive insight into the discreet lives of the Royal family a number of exhibitions are taking place Windsor Castle, the V&A Museum, Kensington Palace, the National Maritime Museum, all exhibiting their own tributes and recollections of the Queen in this special year.  The National Portrait Gallery is displaying 60 prestigious portraits, some of which have never been seen before and Buckingham Palace will reveal it's largest collection of Royal Diamonds ever assembled for public display, including those from The Queen's personal jewellery box.
A room fit for a Queen
If you are looking for the royal treatment, you will be spoilt, pampered and royally catered for by many of London's top hotels. The Royal Warrant holding Ritz hotel has created an exclusive programme which includes accommodation, gifts, dinners, transport and everything a lady (or gentleman) in waiting would need. The Metropolitan London has created a reviving spa package which will create a magisterial glow.
So rig up your bunting, set the flags flying and head to the capital for a right royal day out!
For a full listing, please click through to the What's New Diamond Jubilee newsletter.  For more ideas and further details see www.visitlondon.com/jubilee
Notes to Editors
Contact