London unearths another record
Today London & Partners name the Museum of London's archaeological archive, known as LAARC, the largest in the world as part of World Record London.  The largest archaeological archive title, adjudicated by Guinness World Records, pushes the UK capital a step closer to becoming a world record breaking city.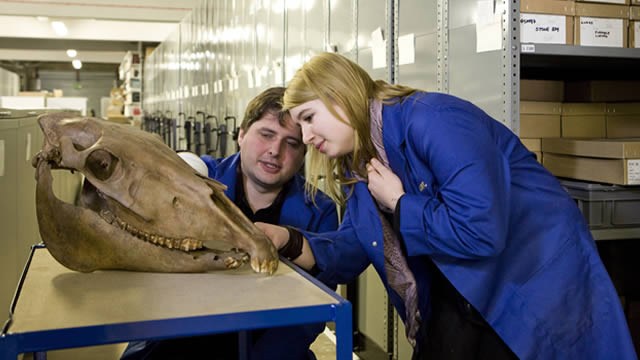 The LAARC, or London Archaeological Archive and Research Centre, is full of London's hidden treasures so every time you open a box the mysteries of the capital's past are illuminated through over 5 million artefacts and records of nearly 8,500 London excavations, the earliest dating to 1830.
Some of the record-breaking items to be found within the 10km of shelving and 120,000 brown boxes at LAARC include:
• shoes dating from Roman times to the present day;
• a 200 year-old pair of false teeth;
• a selection of 'witching bottles', one complete with human teeth and toenails;
• macabre coffin plates from London's cemeteries;
• decorative stone, sculpture and fragments of architecture from London's history.
• colourful examples of ceramics, glass and pottery;
• exotic animal bones including whale bones, turtle shells and a swordfish bill.
Roy Stephenson, Head of the Museum of London's Archaeological Collections and Archives, said: "One thing that makes London unique is its rich complex archaeology, some of the best in the world. The water logged environment is perfect for preserving organic objects from leather clothes to wooden waterfronts  as well as pottery, coins and bones, all of which and more are represented in our archive. There are many objects in the collections that excite me, one of which is a Maori Patu or war club, which must have been brought home from an epic journey to New Zealand in the 18th or 19th century, it is redolent of past peoples endeavours and the place of London on the world stage.
"Many of the best examples from our archive are on show to visitors within the Museum of London's galleries. For visitors who want a deeper look at our archives we run many popular tours and an award winning volunteer inclusion programme, I urge everyone to take part and see what archaeology can tell us about London's past."
On the news that the Museum of London officially contains the world's archaeological archive David Spence, Interim Director of the Museum of London, said: '"I am delighted that the Museum of London has been officially recognised for holding the world's largest archaeological archive. The Museum of London is the leading museum for London, with collections that help embody the city and its spirit from pre-history to the present day making it uniquely placed to tell story of London. Congratulations to the other world record winners who have received accreditation as part of World Record London as well. This is a very fitting way to kick off London's Olympic year."
Gordon Innes, CEO at London and Partners, said: "London has some of the world's best museums with many visitors starting their trip with a visit to the excellent Museum of London.  We are delighted that World Record London highlights an amazing museum that demonstrates how the city changes and evolves and has been welcoming the world for over its history.  Alongside this award we hope the all the other records to come will show the many unique and one off events and experiences that London has to offer during this magical year."
The LAARC's award-winning Volunteer (Visitor) Inclusion Programme is funded through the Renaissance in the Regions programme, a national investment in regional museums managed by Arts Council England. To find out more or book a visit to the LAARC visit www.museumoflondon.org.uk/laarc or call 020 7001 9844.
Notes to Editors

For more information or images, please contact Andrew Marcus, PR Manager, on 07725 617865 or amarcus@museumoflondon.org.uk.
Museum of London, Museum of London Docklands and Museum of London Archaeology seek to inspire a passion for London. The Museums are open daily 10am – 6pm and are FREE to all.
Explore the Museum of London with Collections online - home to over 12,000 objects with more being added.
Follow the Museum of London on Twitter http://twitter.com/museumoflondon and facebook http://www.facebook.com/museumoflondon
LAARC opened in 2002 with the aim of making London's archaeology accessible to all. The LAARC's collections include records concerning nearly 8,500 excavations in London, the earliest dating to 1830 and the archive stores artefacts and records from sites that have been excavated in London many by Museum of London Archaeology. Finds from Shakespeare's Rose Theatre, the Roman amphitheatre, Nonsuch Palace and Heathrow's Terminal 5 are just some of the items cared for by the LAARC.
World Record London will see the most exciting capital in the world attempt over 20 Guinness World Records to make London a multi record-breaking city. To celebrate the magical year as host city of the 2012 Olympic and Paralympic Games, London & Partners' campaign will highlight unique and one off events available to Londoners and everyone visiting the capital between now and July 2012. There has never been a better time to visit London - to check out what's coming up as part of World Record London and get involved visit www.visitlondon.com/worldrecordlondon
Contact