2012 To Be Bumper Year for Tourism
- 12.7m overnight leisure visitors to come to London in 2012
- 5.2% increase on the equivalent figure for 2011
- Another 10% growth in numbers of visitors expected through to 2015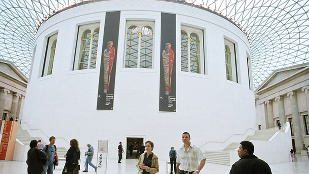 London & Partners, the official promotional organisation for London, forecasts that 2012 will be a bumper year for leisure tourism in the capital. The figures from Tourism Economics indicate that 12.7m overnight leisure visitors, both overseas and domestic are expected to come and stay in London during 2012.
The forecasts suggest that fears that visitors would be put off by this year's major events programme do not present the full picture for London in 2012. The figures are a clear indication that visitors are keen to come and experience this once in a lifetime year in London. London & Partners is confident that The Queen's Diamond Jubilee and Olympic and Paralympic Games will provide an overall boost to London's visitor economy.
Commenting on the forecasts, Gordon Innes, Chief Executive of London & Partners said:
"This forecast is fantastically encouraging news for London as we prepare to welcome the world to the city.  People are keen to visit the city in 2012, whether to take advantage of the once in a lifetime events taking place this year or simply to enjoy our world class attractions, theatres, shops and restaurants.
"Our message is clear - London in 2012 has even more to offer - whether you want to come and celebrate Her Majesty's Diamond Jubilee, watch the world's best athletes competing at the Olympics and Paralympic Games or celebrate the city's openness and diversity at World Pride. 12.7m people are predicted to visit London this year – exceeding figures for last year by over 5%. London has an enduring appeal for leisure visitors. This is largely because of the diversity and dynamism of the city's visitor economy which truly offers something for everyone."
As well as helping to attract some of the 12.7m leisure visitors to London in 2012, one of the key benefits of the Olympic and Paralympic Games is the fact that it will expose London to an estimated global audience of 4 billion people. This is one of the factors that has resulted in the forecasts for 2013 – 2015 being equally encouraging for London. The exposure through the Olympics will help to sustain the 2012 levels of visits into 2013 and will then aid it to grow as much as 11% over the following two years, resulting in around 14.1m leisure visitors coming to the capital in 2015.
Notes to Editors
The Research
Forecasts are from Tourism Decisions Metric by Tourism Economics – a widely used modelling tool for the tourism industry:
Leisure Visits to London

Overnight visits (thousands)

 

2008

2009

2010

2011

2012

2013

2014

2015

Volume

10,200

10,617

11,512

12,125

12,754

12,856

13,484

14,143

% change

4.8

4.1

8.4

5.3

5.2

0.8

4.9

4.9
Contact
Sunita Sharma - Head of Communication, Corporate & Consumer - +44 207 234 5844 / ssharma@londonandpartners.com