London record broken for most expensive chocolate egg
London has cracked another Guinness World Record with the world's most expensive non-jewelled chocolate egg sold at auction as part of World Record London.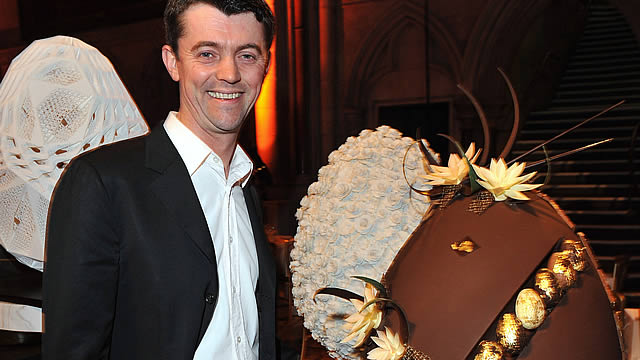 The 50 kilo egg designed by London based William Curley sold at auction on Tuesday 20 March for £7000 and was bought by technology investor Cyrus Vandrevala. The new Guinness World Record is one of over 20 that will make London a multi record-breaking city.
The stunningly decorated hand-made egg took three days to make by seven artisan chocolatiers at William Curley's Twickenham production kitchen and is made with the finest Amadei chocolate from the Chuao region of Venezuela, famous for being the best chocolate in the world.
The egg is filled with traditional William Curley favourites that are all gold award winners awarded by the Academy of Chocolate – including muscovado caramel, Japanese black vinegar, rosemary and olive oil, toasted sesame and juniper berry and cassis. As with many of Curley's products they have a little hint of edible gold leaf somewhere on them, and this egg is no exception.
Gordon Innes, ceo London & Partners, the capital's promotional organisation, said: "London & Partners is delighted to be working with The Fabergé Big Egg Hunt, which is raising money for charities Action for Children and Elephant Family. Their stunning eggs dotted around London over the last month have enthralled us all.
"Our multi-record breaking World Record London shines a spotlight on the many exciting special events and attractions that visitors can experience while visiting London this year. There has never been a better time to come to the capital."
Guinness World Records will recognise London as the holder of a number of world records including the Queen's Diamond Jubilee River Pageant on Sunday 3 June which hopes to break the record for the Largest parade of boats; Ealing Studios will be recognised as the oldest working movie studio and Sherlock Holmes as the most portrayed fictional character.  
So far London has broken the record for the longest curtsey relay, the longest marathon hug and in the midst of the most participants taking part in an Easter egg hunt in the capital.
Visit www.visitlondon.com/worldrecordlondon to check out what's coming up as part of World Record London and find out more about what's going on in London.
ENDS
Sunita Sharma – London & Partners ssharma@londonandpartners.com / +44 207 234 5710
Notes to Editors
About London & Partners
London & Partners is the official promotional organisation for London attracting and delivering value to businesses, students and visitors. London & Partners is a not-for-profit public private partnership, funded by the Mayor of London and a network of commercial partners.
Our remit is to drive leisure and business visitors as well as bidding to secure major events in London, to unlock the city for overseas businesses who want to set up or expand in London and to promote the capital's world class universities to international students.
Our intention is to work in partnership with organisations in London and across the world to deliver our goal - that London be globally recognised as the best big city on earth.
For more information visit www.londonandpartners.com
The Fabergé Big Egg Hunt
For more information about The Fabergé Big Egg Hunt, please visit www.thebigegghunt.co.uk
About Action for Children
Action for Children supports and speaks out for the most vulnerable and neglected children and young people, for as long as it takes to make a difference in their lives
Action for Children works with the most vulnerable and neglected children and young people: whose families need support; are in care; who are disabled; who experience severe difficulties in their lives
Action for Children is a national charity delivering services that respond to the local needs of children, young people, their families and communities
Children are at the centre of everything Action for Children does. For more information on our work, please visit www.actionforchildren.org.uk
About Elephant Family
Elephant Family is the world's leading Asian elephant conservation charity. Founded in 2002 we are active in five countries and have invested over £5 million into their conservation.

In the past 100 years, the population of the Asian elephant has plummeted by 90%. Without action this iconic animal of global importance may cease to exist in the wild by 2050. Elephant Family is racing against the clock to address their major threats which include massive habitat loss, poaching and human encroachment.
Best known for Elephant Parade London 2010, we are racing against the clock to raise funds and awareness before it is too late
About William Curley
Growing up in a small town in Fife, Scotland, William Curley discovered a passion for gastronomy and began his career with an apprenticeship at Gleneagles Hotel. William then went on to spend six years at numerous Michelin-starred establishments with the most respected chefs and pâtissiers in the business including Marc Meneau, Pierre Koffmann, Raymond Blanc and Marco Pierre White. He subsequently became the youngest (27) Chef Patissier at The Savoy, working with Anton Edelman, where he met his wife and business partner Suzue – also a highly respected pâtissier, originally from Osaka, Japan.
William and Suzue, are renowned for producing the most delicious and inspiring range of handmade chocolates, pâtisseries and desserts. Together they opened the first 'William Curley' shop in Richmond in 2004. Following the success of the Richmond store they went on to open their second venture in Belgravia in November 2009, a chocolate and patisserie lover's heaven with a simple, Japanese inspired décor that provides the perfect backdrop to a host of exquisite chocolate creations and delicate patisseries. William Curley has been awarded the title of Britain's Best Chocolatier by The Academy of Chocolate from 2007 – present.
Contact