London: the best city in the world in which to study says new London university partnership as it launches at the House of Lords
Fourteen London universities are joining together to promote London internationally as the best city in the world in which to study. Working collaboratively, and in partnership with other London agencies as the London Universities International Partnership (LUIP), they are launching a series of initiatives to showcase the unrivalled opportunities for students that only a world- class city like London can offer.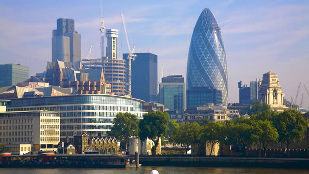 London is the world's top study destination with over 105,000 international students from 210 countries, more than any other city in the world. The LUIP, which was launched today at the House of Lords, aims to retain this world leading position in an increasingly globally competitive market and to capitalise on the additional focus on London provided by events such as the Diamond Jubilee celebrations and the London 2012 Olympic and Paralympic games. Gary Davies, Chair of the LUIP, comments;
"This summer's major events provide a great opportunity for us to work together to promote all of the elements that make London a great global city, including our world-leading higher education sector.  Increasingly employers from all over the world are citing the importance of graduates with an international perspective and 'cross-cultural understanding. Studying in London, alongside fellow-students from 210 countries and in a global business centre, is the best way to acquire these essential attributes."
LUIP are launching The London Study Ambassadors Award in the USA and India this year, offering leaders of the future a unique business and cultural experience whilst studying in London. Recipients of the award will benefit from a programme of exclusive activities showcasing London's uniqueness and giving them unprecedented access to organisations and attractions. These include behind the scene tours of classic London icons and museums, a 'boot camp' on leadership and entrepreneurship, and personalised seminars and tours of London's preeminent international finance centre. The ambassadors will also work with London & Partners to promote London back to their own country and take on an ambassadorial role on their return. Gordon Innes Chief Executive of London & Partners, the Mayor of London's international promotion organisation welcomes the initiative;
"London is the world's knowledge capital and we are delighted to be working with the Partnership to position London as the best place to be a student. Talented international students contribute to London's overall diversity and vibrancy, and more importantly are ambassadors for London on returning home. We look forward to establishing a long-term relationship with London's international students as they graduate to become successful alumni."
In May, to coincide with the Queen's Diamond Jubilee celebrations, LUIP will be showcasing London to a group of high profile bloggers and social media influencers from China. They will be given a first-hand experience of how studying here can provide a world-class education in a world -class city. The bloggers will see some of the cutting edge teaching and research partnership taking place in LUIP universities as well as sampling highlights of London's cultural, business and creative sectors. Their experiences will be communicated back home to their millions of followers instantaneously. Baroness Jo Valentine, Chief Executive of London First, a leading Business membership group said;
 "London is a world leader in international education. This exciting showcase will create excellent opportunities to forge even stronger relationships with important global partners particularly in the emerging markets. We look forward to supporting the partnership in their work with employers and industry bodies in major cities."
Joanna Liu and Arvind Govindarajulu have already benefited from studying in London.
After studying an MA in design and branding strategy and choosing to stay and work in branding agencies in London, Joanna set up her own company, SHI SHI ISHI Branding and Creative Marketing. With offices in London and Beijing SHI SHI ISHI is the creative bridge between London and China.  This successful company is truly international, employing staff from 7 different countries, speaking 9 different languages. Joanna chose to study and establish her company in London as she believes it has the best environment for creative thinking and gives you the opportunity to build a network of global contacts.
"Studying in London gave me a great platform to meet people from different backgrounds and cultures. This helped me to share the idea behind the point of view which has been vital to the success of my business. If you have a dream or a vision London is the city to make it come true."
MBA graduate Arvind Govindarajulu works as a Business Analyst for a Financial Services Company called Riskcare based in the City of London. He secured the job after meeting influential people in the sector at one of the many networking events organised by his university. This exposure to a world leading business environment, coupled with the high standards of education and cultural diversity of London was what led Arvind to study here.
"In terms of education, London has the best resources and is the ideal launching pad for an individual looking to gain experience and skills in a chosen study area. London is tailor made to augment the learning process with a significant increase in exposure to the latest in the business world."
Notes to Editors
The London Universities International Partnership is made up of 14 universities in partnership with London & Partners:
Brunel University
City University London
Goldsmiths University London
Kings College London
Kingston University
London South Bank University
Queen Mary University London
Royal College of Art
Royal Veterinary College, University of London
School of Oriental and African Studies, University of London
University of the Arts London
University of East London
University of Roehampton
University of Westminster
The Partnership aims to:
Showcase London as a world-class study destination and the world's knowledge capital;
Establish collaborations, in each key market, with  stakeholders, partners and businesses;
Raise the profile of London's universities and all their world -class activities and facilities 
Lobby regionally and nationally to raise issues that  affect international students;
Share resources and research ;
Access a range of key London bodies to work collaboratively to promote London as the best city in the world
For more information visit www.luip.co.uk
London & Partners is the official promotional organisation for London. Our company attracts and delivers value to business, students and visitors. London & Partners is a not-for-profit public private partnership, funded by the Mayor of London and a network of commercial partners.
Our remit is to drive leisure and business visitors as well as bidding to secure major events in London, to unlock the city for overseas businesses who want to set up or expand in London and to promote the capital's world class universities to international students.
For more information visit www.londonandpartners.com  
London First is a business membership group whose mission is to make London the best city in the world in which to do business. For more information visit www.londonfirst.co.uk
Contact
Philippa Collins Robson
07770 751 915