Easter Egg Enthusiasts Crack World Record For Biggest Egg Hunt Competition
Over 12,773 die-hard egg hunters have helped a charity event claim the Guinness World Records title for the Most Entrants In An Egg Hunt Competition, as part of World Record London.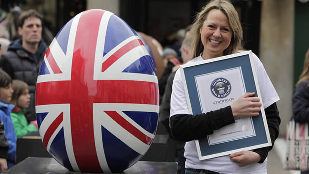 Entrants in 'The Fabergé Big Egg Hunt', raising money for charities Action for Children and Elephant Family, have been tracking down over 200 giant eggs hidden throughout London, for the past six weeks. To enter the Guinness World Records attempt, participants located unique SMS keywords displayed on each of the eggs and texted the keyword to a dedicated text number.
The eggs, designed by some of the world's leading artists, architects, jewellers and designers from Mulberry, to Sir Ridley Scott, Zaha Hadid, Diane Von Furstenberg, Marc Quinn, Bruce Oldfield, Theo Fennell, William Curley, Bompas and Parr and Polly Morgan, are now on display in Covent Garden until Easter Monday (9 April 2012).
The Fabergé Big Egg Hunt has already broken a Guinness World Records title for a giant chocolate egg created by couture chocolatier William Curley. The Most expensive non jewelled chocolate egg sold at auction was purchased for a record breaking £7,000. Sales from other eggs at auction have already helped to raise £667,000, with a Humpty Dumpty egg signed by Prince Charles and the Duchess of Cornwall reaching £51,000, 'stolen' letter box egg by artist Benjamin Shine, raising £42,000, and Marc Quinn's 'Egg', reaching £40,000.
Rachel Waldron, Project Director, The Fabergé Big Egg Hunt, said: "Breaking the Guinness World Records title is the icing on a very big cake. A huge thank you to everyone who has helped us to do this, and raise money for two incredible charities at the same time. The eggs all have such individual charm and personality, and have brought a huge amount of fun to the streets of London over the last few weeks, so this is dedicated to them! I hope we hold the record for many, many years to come."
The two Guinness World Records attempts are part of World Record London, which will see the most exciting capital in the world attempt over 20 Guinness World Records to make London a multi record-breaking city. To celebrate the magical year the London & Partners' campaign will highlight unique and one off events available to Londoners and everyone visiting the capital between now and July 2012.
Notes to Editors
The Fabergé Big Egg Hunt
For more information about The Fabergé Big Egg Hunt, please visit www.thebigegghunt.co.uk
About Action for Children
Action for Children supports and speaks out for the most vulnerable and neglected children and young people, for as long as it takes to make a difference in their lives
Action for Children works with the most vulnerable and neglected children and young people: whose families need support; are in care; who are disabled; who experience severe difficulties in their lives
Action for Children is a national charity delivering services that respond to the local needs of children, young people, their families and communities
Children are at the centre of everything Action for Children does. For more information on our work, please visit www.actionforchildren.org.uk
About Elephant Family
Elephant Family is the world's leading Asian elephant conservation charity. Founded in 2002 we are active in five countries and have invested over £5 million into their conservation.

In the past 100 years, the population of the Asian elephant has plummeted by 90%. Without action this iconic animal of global importance may cease to exist in the wild by 2050. Elephant Family is racing against the clock to address their major threats which include massive habitat loss, poaching and human encroachment.
 
Best known for Elephant Parade London 2010, we are racing against the clock to raise funds and awareness before it is too late.
About Fabergé
Fabergé is one of the most revered names in history, synonymous with consummate design and craftsmanship.G
Granddaughters of Peter Carl Fabergé, together with Mr John Andrew, make up the Fabergé Heritage Council which guides the unified Fabergé in its pursuit of Fabergé's original values, philosophy and spirit. Dr Géza von Habsburg, one of the world's leading Fabergé experts and authors, serves as Fabergé's Curatorial Director.
Today, under the artistic direction of Katharina Flohr, Fabergé traces the legacy of excellence in creativity, design and craftsmanship to bring about a new era of endearing and enduring personal possessions and gifts for discerning clients.
World Record London
World Record London will see the most exciting capital in the world attempt over 20 Guinness World Records to make London a multi record-breaking city. To celebrate the magical year as host city of the 2012 Olympic and Paralympic Games, London & Partners' campaign will highlight unique and one off events available to Londoners and everyone visiting the capital between now and July 2012. There has never been a better time to visit London - to check out what's coming up as part of World Record London and get involved visit www.visitlondon.com/worldrecordlondon
Contact