London & Partners gets business "in the bag" for London at International Confex 2012
London & Partners, the official promotional organisation for London, has teamed up with Fashion Fringe, the annual award platform finding and supporting emerging fashion talent in London, to create stylish limited edition London bags. The exclusive bags will be given to all those visiting London's stand B1720 at International Confex 2012 which takes place at ICC ExCeL London from 6th to 8th March 2012.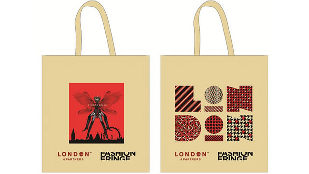 London & Partners and Fashion Fringe commissioned two award-winning rising stars of the fashion world, the most recent Fashion Fringe winners, FYODOR GOLAN (2011) and the first ever winners of the award Basso & Brooke (2004), to create bespoke designs for London. These one-off designs offer each label's own unique interpretation of the city and are a showcase of the edgy fashion for which London is renowned the world over.
Selected by Stylist Magazine to design a unique outfit for Kylie Minogue for the magazine's celebration of 25 years of Kylie, Basso & Brooke are pioneers of the digital print process in fashion, having also been one of the first UK brands to be worn by First Lady, Michelle Obama.
Fyodor Podgorny and Golan Frydman teamed up in London to form their creative label, FYODOR GOLAN, and have worked with everyone from Alexander McQueen to Lady Gaga. Describing their ethos as Dr Jekyll & Mr Hyde, they explore differences rather than similarities to create their own signature.
Fresh from their successful debut solo show at London Fashion Week, Fyodor Podgorny and Golan Frydman said:
"We see our design as a portrayal of an edgy, unique and cool London. We are showing the strong, creative and fashionable side of London - not necessarily the "polished side". We wanted to portray that in London, you expect the unexpected."
Echoing that London is a world leader for business and incentive as well as a destination rich in diverse leisure experiences, the partnership with Fashion Fringe and its designers reinforces its unique offering as a city that celebrates innovation, creativity, talent and diversity, whilst remaining true to its fascinating heritage.
Zanine Adams, Head of Event Solutions and UK Sales at London & Partners said;
"We are delighted to partner with Basso & Brooke and FYODOR GOLAN through Fashion Fringe on this exciting venture for International Confex that brings together the worlds of Fashion and Business in London, both thriving sectors in which the capital has securely staked its claim. London & Partners is thrilled to be exhibiting once again at International Confex, reinforcing our promise to connect event planners to London through our free and impartial convention bureau service, ensuring businesses get the very best of the city for their event, incentive or motivational trip."
London is a capital which embraces collaboration - whether between students and businesses or venues and artists, the city connects people across industry and sector, and inspires creativity from its diverse pool of talent from across the world. Such a collaborative outlook is what gives the city an unrivalled proposition as a leading centre for business and events.
This is a position which only seems to be getting stronger as we head towards London 2012 in what is a year like no other for London. Whilst the city has kicked off the celebrations with a raft of unique experiences and one-off events taking place throughout 2012, it is already looking ahead to the legacy that the Olympic Games will leave for 2013 and beyond for businesses, residents and visitors alike. London is firmly focused on the future which is demonstrated by the opportunities and benefits post-Games including a wealth of new venues; mass enhancement of London's transport infrastructure; new hotels and attractions and the regeneration of London's East End, providing a brand new part of the city to explore and enjoy.
Highlighting London's diverse offering of venues for business and events, London & Partners will be exhibiting at International Confex along with 16 stand partners including Wembley Stadium, the Royal Garden Hotel, London Transport Museum and Lord's Cricket Ground. With such a wide range of London venues, the team at the London & Partners stand can provide solutions for all kinds of events and needs, from a full planning advisory service for events on every scale to specialist venue information from individual stand partners.
Julie Bouabbane, Venue Marketing and Sales Manager at London Transport Museum said:
"As a truly 'London' venue, we are delighted to join with London & Partners at International Confex to launch a number of new packages that celebrate the capital in style. For event planners looking to bring their business to the capital, London Transport Museum has a wealth of offers for this year and beyond. For 2012 these include offers inspired by the iconic London tube map plus themed 'Olympic' evenings, and also special opportunities to celebrate the 150th anniversary of the London Underground in 2013."
Adam Faries, Conference & Banqueting Sales Manager at the Royal Garden Hotel said:
"We are delighted to be exhibiting at this year's International Confex with London & Partners in what promises to be a great year for Confex and for London.  At the Royal Garden Hotel, we have recently completed a multi-million pound refurbishment, which includes a significant upgrade to our meetings and events space and we're looking forward to showcasing this to visitors at the show." 
As a city for incentive and business, London maintains its status as one of the top destinations in the world attracting more event delegates than any other city on the planet. But London is not a city to rest on its laurels: with recent mass investment into the city and an ever changing landscape, London remains the best big city on earth for business.
Notes to Editors
About Fashion Fringe
Fashion Fringe was set up in 2004 by Colin McDowell in association with IMG Fashion, in response to the need to enable emerging talented designers to run successful businesses in London. This inspirational and committed business model has helped to launch varied design labels into the fashion industry, seventeen of which are still running successful fashion businesses today, including Basso & Brooke (winners 2004), Erdem (2005), Gavin Douglas (2006), Aminaka Wilmont (2007), Eun Jeong (2008), JENA.THEO (2009), Corrie Nielsen (2010) and most recently FYODOR GOLAN (2011). Fashion Fringe continues with its original aim to discover, nurture and sustain cutting-edge design talent within UK.
The designer selected as winner each year gains instant acknowledgement from the industry, as well as being awarded a two year development package, which includes a mixture of financial support, business advice, mentoring and an equipped studio at Somerset House, to set up and forward their business. 
None of which would be possible without the ongoing support of our valued partners, including American Express, Covent Garden London, Davenport Lyons, DHL, Metro and the Mayor of London.
Between 12th and 20th March 2012, Fashion Fringe is hitting the road, visiting six leading fashion Universities across the UK. Log-on to www.fashionfringe.co.uk to find out when we will be visiting a city near you.
www.fashionfringe.co.uk | @fashionfringe | Search for us on Facebook and YouTube
About FYODOR GOLAN
Fyodor Podgorny and Golan Frydman are the designers behind the creative label FYODOR GOLAN. Golan moved to London for the prestigious Istituto Marangoni, initially receiving fine arts education in Israel and Fyodor attended the distinguished Royal Academy of Fine Arts, Antwerp before moving to London where the two met.
Their previous experience includes Alexander McQueen, Issey Miyake, Richard Nichol and Dries Van Noten where the duo accumulated a wide collection of skills, which would later lead to the launch of their own label FYODOR GOLAN in 2010 and their consequent win of last year's Fashion Fringe award in 2011.
Describing their ethos as Dr Jekyll & Mr Hyde, they explore differences rather than similarities. Through an expressive dialogue, the designers looks for purity in shape/form and integrity in texture/detail, using these elements to create their own signature.
FYODOR GOLAN have collaborated with different artists such as Lady Gaga, and their collections are stocked in the UK exclusively at Harvey Nichols and internationally from Hong Kong to Milan and the Middle East.
About Basso & Brooke
Bruno Basso & Christopher Brooke are the pioneers of the digital print process in fashion.
They made history with their groundbreaking 100% digitally printed collection, earning them the prestigious Fashion Fringe Award.
Vogue championed them as ones to watch in their annual 'Vogue List', and they won 'Best New Designers' at the Elle Style Awards.
Michelle Obama made headlines by wearing one of the label's pieces, making them one of the very first UK designers to be worn by the First Lady.
London's Design Museum short-listed the label's SS09 collection for 'Designs Of The Year'. In 2010 they were selected as members of the highly regarded Walpole 'Brands of Tomorrow' program.
They also have a piece archived in the Metropolitan Museum of New York's Costume Institute – the first digitally printed piece in their permanent collection.
Basso & Brooke have collaborated with high profile brands such as Coca-Cola, Converse, Swarovski, Sky HD, L'Oreal Paris, Mac, GHD, Stephen Jones, Nicholas Kirkwood, Habitat, Formica, Lycra, Red Bull, Graham & Brown, British Council, Havaianas, Saint Martin's Lane Hotel, E&G Gallo Winery, Dorchester Collection, Harrods, Linda Farrow, TIGI and notable others.
Their work has been extensively published in respected international books and magazines and their collections are stocked worldwide.
About London & Partners Convention Bureau
London & Partners offers business visitors free and impartial advice on planning any type of event in the capital from 10 people up to 10,000. The team at London & Partners extends a whole business tourism offer which can mean anything from advice and venue searching to liaising with suppliers and offering a full event solution – so making it easy to bring a business event to London.
For more information on how we can assist your business in the capital this year visit
http://www.londonandpartners.com/convention-bureau/
About London & Partners
London & Partners is the official promotional organisation for London. We attract and deliver value to business, students and visitors. London & Partners is a not-for-profit organisation, funded by the Mayor of London and a network of commercial partners.
Our remit is to drive leisure and business visitors as well as bidding to secure major events in London, to unlock the city for overseas businesses who want to set up or expand in London and to promote the capital's world class universities to international students.
Our intention is to work in partnership with organisations in London and across the world to deliver our goal - that London be globally recognised as the best big city on earth.
For more information visit www.londonandpartners.com
Contact
Kirsten Ferguson – PR Manager – Business Tourism, FDI & Major Events
T: +44 (0)20 7234 5861
M: +44 (0)78 2550 7051