Latin America wants to talk business with London
The Latin American Forum, the first private sector led initiative of this type in the UK seeks to boost business opportunities between the UK and Latin America.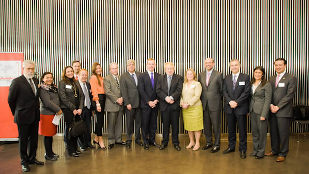 Latin America was at London City Hall on February 6th 2012 in an event including the presence of the mayor of London Boris Johnson as keynote speaker, along with officials and senior professionals from local and national agencies and corporations.
The Mayor of London, Boris Johnson said:
"London is the best big city in the world to do business and the ideal base for anyone looking to get a foothold in the European market. At the same time this part of the southern hemisphere is developing strong economies ready to take on the world, So it's natural that Latin American companies, are becoming increasingly interested in our capital as the best place to spearhead that challenge."
London has always been and continues to be a business world hub, an English gateway to the world, in this case to a Spanish & Portuguese speaking world. And even in times of global uncertainty, this city is in the forefront when it comes to opening doors and unearthing opportunities worldwide. A place where new and established markets meet, as described by the Latin American Forum president, Paola Lombardi.
The Latin American Forum is the first multi-country, private sector-led initiative of this type in the UK, the Latin American Forum president's Paola Lombardi said that "the aim is to create one common space for mutual benefit, by devising creative models of how to cooperate with the existing organisations that had been working with Latin America and to assemble the dispersed senior Latin America Business community based in London. We know that diaspora networks have been a potent economic force for centuries. Finally the Latin American forum seeks to open doors of opportunities and to help the various members of the Latin American ecosystem to access opportunities faster and more efficiently. This is what the Latin American Forum is all about".
 "Latin America is a región of business opportunities and in times of shifting international balances  London emerges as the English speaking door to accessing the región. The Latin American Forum will be a key partner in developing relationships with Latin America by creating a space to meet and discuss business and professional affairs affecting Latin America as a region and the UK. For us, it was a matter of connecting the existing organisations that have been working with Latin America for years and create an ecosystem to support each other. It is time to work together, collaboratively and open up channels to markets that will strengthen bilateral trade, partnerships and access to opportunities".
Latin America is one of the few regions in the world that has coped with the economic problems affecting traditionally strong economies in the last years. The region once categorized as unstable politically and economically has shown resilience to the worsening economic conditions. Despite the global economic downturn, the economy of the Latin American and Caribbean region grew 4.4% in 2011 and is forecast to grow 4.1% in 2012.
Gordon Innes, CEO of London & Partners, the Mayor's official promotional organisation who also spoke at today's event added: "Our role at London & Partners is to attract, harness and develop foreign businesses looking to invest in this great city and the Latin America market is one of those key markets where we have seen major growth recently. We believe this a truly unique moment for the Latin American market and the establishment of these seven Latin American business people, who have joined together to establish the first private sector led initiative of this type is an significant milestone. The thinking behind the forum is not only innovative but also crucial to how London works with those countries in the future."
The British Government has expressed their intention on cementing new alliances with the region and is boosting its presence in Latin America, expanding its offices in São Paulo, Mexico City, Bogota and Santiago.
Jeremy Browne, the UK Minister of State for Latin America who attended the Latin American Forum launch said: "we are increasing our staff in all our main hubs across the continent … We are going to have to grow our economy through trade and focus on where there are growth areas like Asia and Latin America".
This new privately led initiative complements already existent initiatives by joining efforts with local, national and international organisations and will play a role in creating bridges between the UK and the Latin American region.
Notes to Editors