'On track' for Olympic Success
London and Vancouver sign Memorandum of Understanding to share Olympic Experience.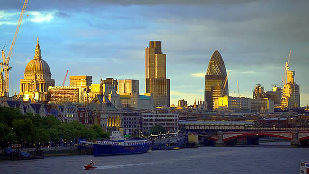 The London promotional organisation London & Partners and the Vancouver Economic Commission today signed a memorandum of understanding (MOU) which will allow the two Olympic cities to share lessons and knowledge about hosting an Olympic Games with a particular focus on future opportunities surrounding economic and business development.
The agreement signed at an Olympic Legacy gala was part of the overall Cities Summit 2012, hosted by Vancouver Mayor Gregor Robertson and the Vancouver Economic Commission. The memorandum was officially signed by Lee Malleau, CEO- Vancouver Economic Commission and Gordon Innes, CEO London & Partners, where Innes' was speaking on a panel entitled: The Next Edge: the 21st Century City's Economic Advantage.
The City of Vancouver (Canada) hosted the Vancouver 2010 Olympic and Paralympic Winter Games (2010 Winter Games) and London is set to host this year's 2012 Olympic and Paralympic Summer Games July 27 to August 12 and August 29 to September 9, 2012.
As well as sharing knowledge between the two organisations, the memorandum stipulates that the two cities will exchange ideas on fostering legacy projects as well as hosting future major events. The agreement also encourages the exchange of learning and experience in different fields including sustainable development, social development, accessibility, education, science and technology, culture, urban planning, tourism and more.
Gordon Innes, CEO of London & Partners said of the agreement: "This memorandum signifies a very clear ambition for London to use the Olympics' as a real catalyst to learn, share and change our great city. London & Partners is determined to use the experiences we gleam from 2012 to benefit London's offering so we can make London an even more attractive city to future visitors. And we are also keen to ensure we share our insights with those other global cities across the world - including previous and future Olympic host cities such as Vancouver and Rio. We want to use this partnership with Vancouver to improve and strengthen London's offering so we can make London an even more attractive city to future visitors, businesses and students."
"The VEC is extremely pleased to sign this international business agreement with London and Partners. Reaching beyond our city, to work with other dynamic global cities, is part of best practices in today's 21st Century environment of conducting effective trade and investment. Working with other Host Olympic cities like London builds on a platform of synergies that already exist, and it makes sense. It's one of the best ways to help our companies access other global markets," concluded Lee Malleau, CEO of the Vancouver Economic Commission.
Notes to Editors
About The Vancouver Economic Commission:
The Vancouver Economic Commission, an agency of the City of Vancouver, works to strengthen the city's economic future by helping existing businesses, attracting investment, researching the business environment and making policy recommendations.
Contact
Chloe Couchman
Head of Communications – Business & Major Events
London & Partners
T: +44 (0)207 2345727
M: +44 (0)7764 633071

Tania Parisella,
Manager, Communications, Marketing & Sponsorship
Vancouver Economic Commission
Mobile: 1 -604-889-2019  
Email: tparisella@vancouvereconomic.com