London & Partners breaks "curtsey relay" world record in New York City
London & Partners last night launched its "World Record London" campaign at the London hotel in New York.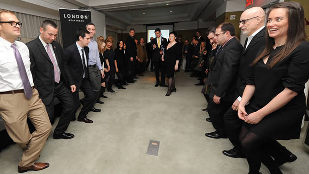 In its only record breaking attempt taking place outside the United Kingdom, the official promotion organization for the British capital and Guinness World Records® invited its New York-based business partners to get "poised" for one of the highlights of London's summer - the Queen's Diamond Jubilee.
Over 50 New York business partners - including PHB Events, and representatives from British Airways and Radisson Edwardian Hotels - became Guinness World Records® Breakers by partaking in the world's longest curtsey relay in five minutes.
The Queen's Diamond Jubilee celebrations will take place in London just over a year after the wedding of Kate Middleton and Prince William.  A four-day holiday over the first weekend in June will feature the world's largest parade of boats on the river Thames, a concert at Buckingham Palace and the lighting of beacons across the U.K. and Commonwealth.
World Record London is a new campaign which will aim to make London a multi-record-breaking city over the next six months. In the lead up to the 2012 Olympic and Paralympic Games, the capital's promotional organization will attempt more than 20 Guinness World Records®  to celebrate the best big city on earth - from its people, attractions, universities, businesses, sports and transport.  All records will be adjudicated by Guinness World Records® - the universal authority on record-breaking achievement.
Samantha Fay, SVP USA & Global Marketing, Guinness World Records® said:
"Guinness World Records was thrilled to officiate the record-setting display of British etiquette here in the US!  We're excited at the opportunity to help generate buzz for the dynamic city of London in the run up to the 2012 Olympic Games."
Gordon Innes, CEO, London & Partners said:
"World Record London is a great way for us to let American businesses, students and visitors know they'll be warmly welcomed to our city this year. What better way to be prepared than to brush up on your British etiquette, after all, you never know who you might meet on your visit!"
Notes to Editors
Contact