London set to smash records in 2012
London & Partners have today launched World Record London - a new campaign which will aim to make London a multi record-breaking city over the next six months. In the lead up to the 2012 Olympic and Paralympic Games, the capital's promotional organisation will attempt over 20 Guinness World Records to celebrate the best big city on earth – from its people, attractions, universities, businesses, sports and transport. All records will be adjudicated by Guinness World Records – the universal authority on record-breaking achievement.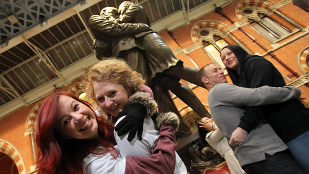 A special hug from the capital will start the first of many record-breaking moments set for this year.
To mark National Hugging Day this Saturday (21 January) and to prepare to welcome the world in 2012, London is aiming to break the Guinness World Records title for the Longest marathon hug.  Hopeful record-breakers gathered this morning by the iconic Meeting Place landmark at St Pancras International station, to start the hugging record.  Eight hugging couples were joined by friends, supporters and entertainers, and will need to exceed the record minimum of 24 hours 34 minutes, to take the title.
Aspiring record-breakers include Mayella Reynolds, founder of hugging group Random Huggers, and her sister in law; Lorna Tulett, star of BBC's The Choir, and her army officer husband, Bryan Tulett; and stand-up comedian, Sanderson Jones.  Jones, 32, from London said:
 "I'm hugging my friend Mikey because I don't see him enough!  We tried to break the world record for the biggest game of hide and seek last year but didn't make it, so it would mean everything to us to win this"
Louise Toms, Guinness World Records, says, "For any endurance, marathon record Guinness World Records requires a minimum duration of 24 hours, this is the benchmark for true endurance. While hugging for 24 hours may seem more accessible than cycling or singing for an entire day, every single marathon record takes incredible mental and physical strength, and commitment." 
World Record London is a calendar of unique and one-off record-breaking events taking place around the capital from now until July 2012 celebrating the capital's most exciting attractions, venues, events and activities.  
The capital will attempt to break new records for the world's Biggest Easter Egg Hunt, the world's Most expensive edible chocolate Easter egg and the world's Longest photograph.Guinness World Records will also recognise London as the holder of a number of world records.  The Queen's Diamond Jubilee River Pageant on Sunday 3 June hopes to break the record for the Largest parade of boats and London Marathon will be recognised as the world's Largest fundraising event. Amongst some of the other records Ealing Studios will be recognised as the oldest working movie studio and Sherlock Holmes as the most portrayed fictional character.  Further records will be announced over the coming weeks. 
Londoners and visitors will be able to participate in some of the world records and will also be invited to join together and break their own records during the campaign by registering their records at Guinness World Records Challengers: http://challengers.guinnessworldrecords.com/
Last year, London welcomed over 25 million visitors who contributed over £16 billion to the London economy. In 2012, World Record London will harness the opportunity to showcase everything the capital has to offer in 2012 and that there has never been a better time to visit, invest or study in London.
Gordon Innes, CEO, London & Partners says:
"World Record London is a great way for us to warmly welcome visitors and celebrate all that is new and exciting about the capital in this very special year. With each record we are able to show the world just how much the city has to offer and highlight that there really has never been a better time to visit. The next six months will include so many highlights and what better way to start than with a hug from London!"
Visit www.visitlondon.com/worldrecordlondon to check out what's coming up as part of World Record London and find out more about the capital.
Notes to Editors
World Record London
World Record London will see the most exciting capital in the world attempt over 20 Guinness World Records to make London a multi record-breaking city. To celebrate the magical year as host city of the 2012 Olympic and Paralympic Games, London & Partners' campaign will highlight unique and one off events available to Londoners and everyone visiting the capital between now and July 2012. There has never been a better time to visit London - to check out what's coming up as part of World Record London and get involved visit www.visitlondon.com/worldrecordlondon



Are you in London during Games time? Register here for the London Media Centre.
Contact
For further information please contact the London & Partners Press Office on:  0207 307 3100 / ria@cakegroup.com