Tourism results demonstrate upward momentum for London
The latest provisional figures from the International Passenger Survey (IPS) reveal that London welcomed 4.4 million visitors in quarter three (Q3) of 2011 (July - September), representing a year on year gain of 1.9%.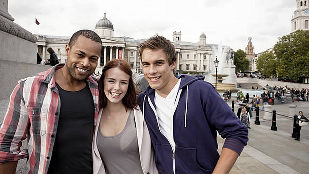 The biggest contribution to Q3's performance came from long haul destinations, with North America up by 7.8% and the other countries including most of the developing and emerging economies such as Brazil, China, Russia and India – all significantly increased.  
In total the overall increase represented nearly 80,000 additional visitors in the three month period compared to 2010.  As a result, figures for the nine months to September reveal a positive 5.9% increase in visits to the capital; indicating a steady rise in London's visitor growth.  These were buoyed by robust business visits which have increased by 8.5% over this same period.
The upbeat business market also strengthened Q3 visits to the capital with an increase of over 5% year on year, representing nearly 700,000 visits in total. London's number one business market, the USA, continued to drive the sector upwards in the quarter with a 6% increase in corporate visitors. Other major business markets including France and Germany also performed very strongly in the quarter.

Visitor expenditure growth was also more marked than Q2 with a year on year increase of 12.4%, generating an additional £300 million for London's tourism economy.  As a result, the average trip expenditure increased by one-tenth, to £633 from £574 in 2010.
Both European and North American expenditure showed a steady increase up 8.4% and 10.6% respectively, bringing the total visitor expenditure in London to an impressive £2.77 billion.
The Mayor of London Boris Johnson said: "London remains one of the most exciting and unique destinations in the world. Last year saw more visitors than ever coming to our great city and, standing on the cusp of what is set to be one of the most memorable years the capital has ever seen, there couldn't be a better time to visit. From world class sport, to cultural extravaganzas, to the pomp and pageantry of the Diamond Jubilee there really is something for everyone to enjoy."
Gordon Innes, CEO, London & Partners said: "The solid evidence of sustained recovery is evident in these latest results for the capital. We can also see an indication of the burgeoning BRIC sector and an increase in visitors from Asia and other countries.  Big draws for this quarter included Duchess of Cambridge's wedding dress at the summer opening of Buckingham Palace, London Pride and the very successful World Badminton Championships at Wembley."
Notes to Editors
Contact