London has its cake and eats it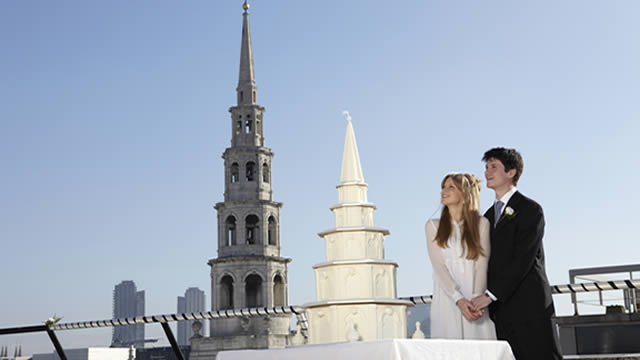 In celebration of the 2011 Royal Wedding, Visit London has created a 4ft medieval wedding cake replicating the steeple and spire of St Bride's Church, London. The famous landmark known as 'The Cathedral of Fleet Street' provided the inspiration for the traditional tiered wedding cake used across the world today.
Royal cake maker; Sophisticake, has created the replica to highlight London's unique heritage as part of Visit London's ongoing campaign Only in London as well as marking the historic wedding of Prince William and Kate Middleton on April 29th 2011.
The origin of the traditional tiered wedding cake hails back to 18th Century London. It is said the story began with Thomas Rich, a baker's apprentice from Ludgate Hill, who fell in love with his boss's daughter and soon asked for her hand in marriage.  Rich wanted to surprise his new bride by creating something spectacular for her on their wedding day and found inspiration from the steeple of St Bride's Church.
The multi tiered wedding cake he created, based on the structure of the steeple and spire, was the first of its kind. It proved to be such a popular hit that it paved the way for future wedding cakes, and remains a firm favourite to this day for brides and grooms across the world.
Jacqueline French, spokesperson, Visit London says,
'With just weeks to go until the Royal Wedding, we wanted to celebrate London's part as the backdrop to the most talked about wedding of our time. By recreating the cake and revealing its history, we want visitors to the capital to enjoy the unrivalled heritage that can only be found in London.'
French continues,
'London offers an incredibly rich culture, something that appeals to visitors from around the world and lesser-known stories, like that of Thomas Rich and his St Bride's wedding cake, really bring the history to life across the capital.'
Dawn Blunden from Sophisticake, who was commissioned in 2005 to make the wedding cake for HRH Prince Charles and the Duchess of Cornwall comments, 'I was thrilled to be asked to bake this St Bride's replica cake in celebration of the forthcoming Royal Wedding and bring it here to London. Only in London can you really feel a part of this historic moment. The cake took over 200 hours to create and for real authenticity I followed a medieval recipe.  By using pounds upon pounds of spices such as mace, nutmeg and cloves I was able to stay true to the cake's original 18th Century origins and hopefully make something Thomas Rich would have been proud of. In total, I used a startling 200 eggs, 120lb dried fruit and 18lb butter!'
On Wednesday 23rd March the 'St Bride's Wedding Cake' will be positioned on a rooftop overlooking the church itself so that, for the first time, the cake and 'inspiration' can share the London skyline. The cake will then be donated to St Bride's Church to share with its parish and support their charitable causes.
For more information on what London has to offer visitors and things to do and see during the Royal Wedding visit visitlondon.com
Notes to Editors
Only In London
Visit London's 'Only In London' campaign promotes the unique and diverse experiences that our capital city has to offer. Results for the first phase of the campaign show that the £2 million international campaign, launched in spring 2009, generated nearly £100 million in economic benefits to the capital – a return of around 50 to 1.
To find out more facts on the Royal Wedding in London or for further information on the history of the capital city and St Bride's church, please contact the Visit London press office at Cake Group on visitlondonteam@cakegroup.com. Alternatively call on 0207 307 3100 and ask to speak to Ria Thomas/Yazmin Malcom
For more information on the history of St Bride's Church, the wedding cake and many other wedding traditions that originated in London, please contact the Visit London team for an extensive fact sheet.
Contact