The Think London 100 companies to watch
Please note: In April 2011 Think London merged with Visit London and Study London to become London & Partners. These archive press releases are here for information only.
Think London, the official foreign direct investment agency for London, has launched for the first time The Think London 100 Companies to Watch, an exclusive list of 100 international companies Think London has had the privilege of working with.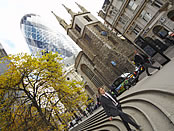 The Think London 100 Companies to Watch celebrates the significant impact these organisations have made in shaping London's economic landscape and recognising those most likely to grow and flourish in the global economy.
The list highlights some of London's greatest inward investment successes, whilst giving a snapshot of the work of Think London, in helping overseas companies set up and grow in London.
The selection of international companies have been split into eight "archetypes" – distinct groups that we think will come to define London's role in the global economy. A mix of sectors and countries can be found in all categories:
Industry Innovators: These companies are at the cutting-edge, combining determination with radical thinking to move their industries forward.
Go-ahead Globalisers: Having set up vital operations in London, these companies are driving rapid and successful growth in markets and territories across the globe.
Green Pioneers: As leaders in the low-carbon economy, these companies are developing the know-how and technology to help "green" the planet.
Niche and Nimble: These highly specialized firms are succeeding through opportune, targeted and speedy expansion into new markets worldwide.
Knowledge Champions: These organisations are developing and nurturing knowledge and expertise for broader personal, social and business gain.
Intelligent Optimisers: Canny consolidation and clever take-overs have seen these firms thrive during challenging economic times.
Flagships: These companies have set up outstanding showcases of products, services and expertise.
Great Inventions: These firms are true revolutionaries, creating entirely new business models and industry sub-sectors.
Download Think London 100 Companies to Watch [PDF 2.62MB]
Notes to Editors
Amongst the 100 companies included in the list are:
Alibaba.com
The world's largest business-to-business online marketplace, connecting more than 56 million small and medium sized buyers and suppliers worldwide. This Chinese success story came to us in 2009 to set up a European HQ, aiming to raise its profile, get closer to its UK users and attract more members globally. We helped it set up in London and recruit from the city's rich talent pool. As of September 2010, the company's UK membership expanded by 63%, making this country one of Alibaba's fastest growing regions. One of the world's best innovators that can only thrive longer term.
"Think London has been instrumental in helping Alibaba.com set up our office here in London from the very beginning. Without Think London we wouldn't be able to set up business in London so quickly and efficiently." Maggie Choo, General Manager, EMEA, Alibaba.com.
Find out more about Alibaba.com
Crystal CG
China's largest computer graphics development and application company, creating 3D imagery and animation for the entertainment, culture, sport and education industries. This firm has "successful global player" tattoed into its DNA thanks to cutting-edge technology, first-class training and an impressive portfolio of film, TV, architecture and sports clients. It wanted to use London as a springboard to global expansion and we secured office space through our Touchdown London scheme, complete with Mandarin-speaking on-site manager.
"When considering our move to London, Think London really persuaded us. They were helpful, ever present, and consistently made a good case for making the move." Jason Leigh, Business Development Manager, Crystal CG International.
Find out more about Crystal CG
Closed Loop Recycling
A world leader in environmental packaging and recycling. This company is a shining star in the low-carbon firmament. Within six years of its founding in 2004, it was handling around 15% of the plastic bottles collected for recycling in the UK. East London was chosen for the recycling site over other locations such as Wales, Manchester, Merseyside and Scotland. We advised on locations, planning and grant applications, and connecting it to bodies such as the Waste and Resources Action Programme. Closed Loop Recycling has set up its UK office, and the UK's first food-grade plastic recycling plant in Dagenham, East London, and now plans to expand, starting with Wales.
"Think london continues to help us with our growth plan. They know what they're talking about, they know a lot of people and they add great value to our business. They swung the whole pendulum in favour of us sticking with London." Chris Dow, Managing Director, Closed Loop Recycling.
Find out more about Closed Loop Recycling
Microsoft European Search Technology Centre (STC)
Researches and develops online search functionality. We applaud Microsoft for entering the web search market with Bing in 2009, competing with the likes of Yahoo and Google. Working with UK Trade & Investment's R&D specialists, we helped set up the company's Search Technology Centre in London. The result: a search engine designed to help users make faster, better informed decisions and commanding a steadily growing market share.
"My team has been working with Think London from the very start – when we first looked into finding sites across Europe for our search technology centre. We met with their San Francisco team at a networking event in Silicon Valley, California. It's been very productive since then. Think London was obviously hungry for us to come to the UK capital... We are excited to be in London." Jordi Ribas, General Manager, Microsoft Search Technology Centre, Europe.
Find out more about Microsoft European Search Technology Centre
Worldwide Retail Store
Operates National Geographic stores worldwide. We're tipping this brand for retail greatness. An association with the globe-trotting National Geographic Society, this retailer is reinventing the humble shop, combining store with café, photo gallery and events space. By 2010 there were outlets in Singapore, Madrid, Malaga, Kuala Lumpur and London, with new openings planned across the world. We hosted our 2009 International Business Reception at the London Store too.
"London is the perfect place to understand retail trends, customer needs and to develop the right products in the best way. Think London has done a great job helping international companies set up business in London and I would like to thank Think London for helping the first National Geographic store to come to London." Pere Matamales, CEO, Worldwide Retail Store.
Contact
Please contact the London & Partners PR team.