London tourism holds strong as Q3 results reveal continued growth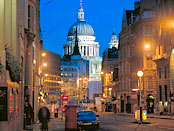 The latest provisional figures from the International Passenger Survey (IPS) reveal that London welcomed 4.24 million visits in quarter three 2010.
The results yielded a significant rise from the same period in 2009, putting Q3 on par with rises being seen pre-recession.
Holiday visitors to the capital provided the main source of growth with 2.3 million visitors, showing a 5.4% rise from the same period in 2009, while the business sector maintained its positive recovery trend, with a whopping 18% rise on Q3 2009.
Total spend by visitors also showed a modest improvement during the quarter, with visitors spending a total £2.4 million, up 0.7% from 2009.
The positive results provided a welcome relief from a testing Q2 period, which remained buoyant despite volcanic ash cloud disruptions.
The Mayor of London, Boris Johnson, said:
'It has been a challenging year for tourism, but the latest visitor numbers demonstrate the strength of what our city has to offer international as well as domestic travellers. London is a bubbling cauldron of stellar attractions, with outstanding culture, fabulous food, great hotels and superb shopping. It also remains a great value destination. This is welcome news as we countdown to 2012, and we will continue to work hard to ensure London is at the top of its game for visitors in what will be a momentous year.'
Sally Chatterjee, CEO Visit London said; 'The figures provide an encouraging start to the year as London maintains its upward momentum, particularly in the business sector. We look forward to continuing this trend in 2011, with the Royal Wedding providing a fantastic opportunity to showcase this great city to a global audience.'
While Q4 visitor numbers are yet to be released, initial figures for the UK overall have shown improvements during October and November, indicating that a positive year-on-year result can be anticipated for the capital for 2010.
Notes to Editors
NB – Full year figures are not available until approximately April.
Contact