London to play host to UEFA once more
London's iconic Wembley Stadium has been named as the host for the 2013 UEFA Champions Final.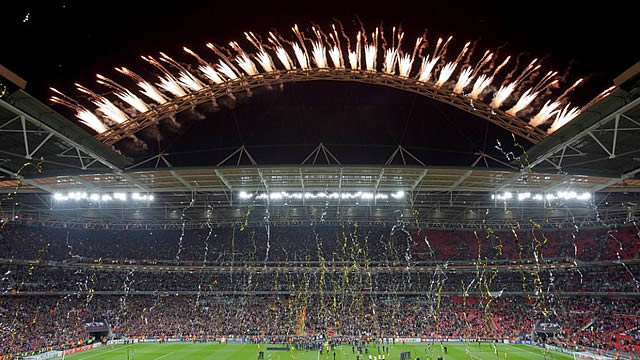 The decision was announced at a UEFA press conference yesterday following their Executive Committee meeting and follows the success of last month's Champions League Final at Wembley.
This year's UEFA Champions League Final delivered the an estimated £45m of economic benefit to London and included a number of different events which animated the city including the free eight-day Champions Festival which took place in Hyde Park, the UEFA Women's Final at Fulham's Craven Cottage and a interactive Trophy tour which crossed the city in the weeks leading up to the final.
The Mayor of London, Boris Johnson said of the announcement: "This is excellent news for London and proves once again that we are the emerging world capital of sport. I am truly delighted that London will once again welcome Europe's footballing giants in 2013. There couldn't be a better fit. We are home to some of the very best of Europe's clubs, grounds and players. This is the contest of contests; and just a year after the Olympics, this couldn't be better."
FA Chairman David Bernstein said: "We are delighted Wembley Stadium has been chosen to host the 2013 Champions League Final. UEFA viewed the 2011 Champions League Final at Wembley as a major success and today they have paid us the ultimate compliment by announcing that they will return to our national stadium in 2013, the year of The FA's 150th anniversary.  It will be a major celebration of football in this country during a landmark year for our organisation and is an acknowledgment of Wembley's status as one of the very best football stadiums in the world."
Iain Edmondson - Head of Major Events at London & Partners – the official promotional agency for London which helped bid for and stage the 2011 event added:
"UEFA's decision re-emphasises London's status as one of the world's top destinations for sport and major events. The major events team at London & Partners was instrumental in bidding for this year's successful event in the capital, and helped create a sporting spectacle for the city, which included the eight-day public Champions Festival in London's iconic Hyde Park. Today's news highlights London's sporting legacy and we truly believe this is the first of many world-class events which will be coming to London after 2012."
Wembley Stadium Chairman Melvin Benn added: "It is an honour that Wembley has been chosen by UEFA to host the 2013 UEFA Champions League Final. It was always our aim to deliver the best ever Champions League Final in May to maximise our chances of getting it back. The fact that this announcement has come so soon after the success of the 2011 final shows just how impressed UEFA was with our stadium and with our team."

The 2013 final will be Wembley Stadium's seventh European Cup Final after hosting the Final in 1963, 1968, 1971, 1978, 1992 and most recently in May of 2011.
It was also announced that UEFA Congress will be held in London in the days leading up to the 2013 UEFA Champions League Final.
Notes to Editors