London & Partners showcase the Human Capital that makes this the best big city on earth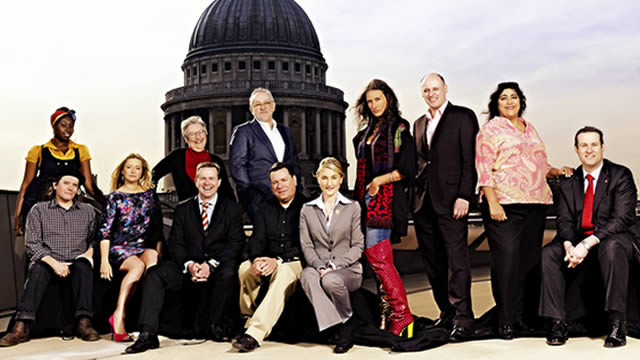 London & Partners, the capital's new promotional agency, launched today with a spotlight on top-talent in the city. 

'London: The Human Capital' kicked-off with a photo celebrating twelve great talents that make London the best big city on earth.
 
One of London's greatest assets is its 7 million people - drawn from all over the world, helping to create, build, and sustain London's unique character.
From fashion and finance, to restaurateurs and playwrights, the 'Human Capital' photo captures the diversity of London's talent, and, taken on the roof of the capital's newest icon; One New Change, shares the changing shape of the city. The London champions represent the huge range of contributions these individuals make to the city's appeal to international businesses, tourists, and international students.

'London's greatest assets have always been the people that live and work here. It is a city that is home to and inspires that world's greatest creative minds, commercial geniuses, and cultural stewards', London  & Partners Interim Chair, Dame Judith Mayhew Jonas said.  
London & Partners Interim CEO Danny Lopez added: 'Businesses, visitors, and students from around the world come to London because it is a place where incredible things happen. That's a testament to the people and the talent in the city that makes it unlike any other place on earth.'
 
The twelve individuals were brought together by London & Partners to represent a range of sectors important to London's economy and its place on the world stage. All of the individuals in the 'Human Capital' group are either from London, do business in London, or moved to London to achieve their goals.   The London talents chosen to participate are:
Bola Agbaje playwright (Gone Too Far)
Stephen Woolley Producer and Director  (The Crying Game, Interview with a Vampire, Made in Dagenham)
Sasha Wilkins Liberty London Girl, Social Media Fashion Queen
Professor Jane Rapley OBE, Head of College,  Central Saint Martins
Chris Dow Managing Director, Closed Loop Recycling
Pierre Koffman Three Michelin Star-winning chef (Koffman's, The Berkeley)
Dr Emile Greenhalgh Imperial College, London (Composite Materials)
Erica Laler Head Sommelier at Michelin-starred restaurant Texture
Lulu Kennedy Founder, Fashion East
Gilles Albaredes Managing Director Crystal CG
Gurinder Chadha Celebrated film director (Bend it Like Beckham, Bride and Prejudice)
Craig Donaldson CEO, Metro Bank
Notes to Editors
About London & Partners
London & Partners is the official promotional agency for London attracting and delivering value to businesses, students and visitors.
London & Partners is a not-for-profit public private partnership, funded by the Mayor of London and our network of commercial partners.
Our remit is to drive leisure and business visitors as well as bidding to secure major events in London, we can unlock the city for overseas businesses who want to set up or expand in London and we promote the capital's world class universities to international students.
Our intention is to work in partnership with organisations in London and across the world to deliver our goal - that London be globally recognised as the best big city on earth.
For more information visit www.londonandpartners.com
'London: Human Capital' The Biographies
Gurinder Chadha, Film Director
Celebrated director Chadha (Bend it Like Beckham, Bride and Prejudice) was born in Nairobi and moved to Southall aged two. Today, she draws on London's melting pot of influences to create unique films, and in 2002 directed the most-successful British-backed film of all time, Bend it Like Beckham, a number one hit on both sides of the Atlantic. She is currently developing a Bollywood-inspired animated movie with DreamWorks Animation.
Dr Emile Greenhalgh, Research Scientist
Dr Greenhalgh leads an international team of scientists from Imperial College London, working on technology that could revolutionise every city on the planet, creating new plastics that store energy and could replace traditional batteries and make low-cost, lightweight electric cars a reality.
Q - What does London mean to you?
'Home. It's a snapshot of the world, with 175 different languages spoken, and restaurants and entertainment from every nation. You become a Londoner after just a few weeks here…and then want to live here for rest of your life.'
Pierre Koffmann, Chef, Koffmann's (The Berkeley)
Three Michelin Star-winning chef Koffmann is a culinary giant, described by the Observer as 'possibly the greatest chef London has ever known'. He wowed London with his pop-up restaurant on the roof of Selfridges in 2009 and recently came out of retirement to return to London's restaurant scene to open a new restaurant at the The Berkeley Hotel.
Erica Laler, Sommelier, Texture
At 25, Swede Erica Laler is the brightest young star of London's wine scene, working as sommelier at Michelin-starred Icelandic restaurant, Texture, designing the drinks menu for the world's most selective drinkers at the Portman Street establishment.
Q – What is London's best kept secret
'I'm afraid if I tell I will find it tricky to get a table, what I can say is a cosy wine bar in the heart of Soho'
Professor Jane Rapley, Central Saint Martins
Later this year, Rapley will open a new chapter in the 150-year history of the world-renowned art college (alumni include Stella McCartney, Christopher Kane and Anthony Gormley), when its spectacular new Kings Cross campus opens, bringing together students from eleven different buildings to create a new creative hub for the capital.
Sasha Wilkins - Liberty London Girl, Social Media Fashion Queen
Liberty London Girl worked as Executive Style Editor for the Wall Street Journal before leaving to run LLG Media, her social media empire, which she runs between London, New York and LA, working as one of the world's most respected fashion commentators, helping to bring the glamour of London Fashion Week to her army of followers.
Q – Who is your London hero?
'May I choose two Marys? in the far past, Spitalfields-born Mary Wollstonecraft for A Vindication of the Rights of Woman and, in the more recent past, Mary Quant, because she changed the way the world looked at British fashion, and provided the style template for a generation.'
Gilles Albaredes, Crystal CG
Crystal CG is the leading Chinese digital imaging company that created the animations for the London 2012 Olympic Games. Albardes runs the company's European headquarters in London, which harnesses the wealth of technical and creative talent the city has to offer.
Q – What is London's best kept secret?
'5th largest French city in the world (for the French number of inhabitants)'
Craig Donaldson, Metro Bank
Donaldson is CEO of Metro Bank, the first new high street bank to open in Britain for a century. Using London as a launch pad, the company aims to open 200 branches in five years and transform the Britain's financial landscape.
Bola Agbaje, playwright
Bola Agbaje is a playwright, graduated from the young writers programme at the Royal Court in 2007. Bola's first play Gone too Far was selected to be performed as part as the Young Writer Festival, the play was performed in the Royal Court Theatre in Feb 07.  In 2008 Gone too far won the Laurence Olivier Award for outstanding achievement in an affiliated theatre.  Bola's writing has been presented by Royal Court Theatre, ATC, Tiata Fahodzi, Hampstead theatre, Soho Theatre,Young Vic and Talawa to name a few. In 2010 Bola Agbaje won  Red's Magazine Hot Women to Watch Award,  Woman of the Future award and was awarded Best Playwright of the Year 2010 at the African Film Award. Bola also spends her time giving back to her community she works with young people teaching writing workshops at Lyric Hammersmith Theatre and Albany Theatre.  She mentors young writers.
Q – What does London mean to you?
'London is home. I am proud to be a Londoner of Nigerian descent.'
Stephen Woolley, Producer and Director
Stephen is a Londoner born and bred and has produced a number of critically acclaimed films including 'The Crying Game', 'Interview with a Vampire', 'The Company of Wolves' and more recently 'Made in Dagenham.' His contribution to the London film industry also includes managing 'The Screen on The Green' in Islington and The Scala Cinema, which he also owned. Stephen is also on the board of Film London.
Q – What does London mean to you?
'Everything. I was born in Islington and have made many movies here: Mona Lisa, End of the Affair, Scandal and The Crying Game'
Lulu Kennedy, Fashion East (Founder)
In 1996 the owners of the Truman Brewery spotted her and asked her to help rent out space to new fashion designers. Giles Deacon moved in, and Hussein Chalayan, Preen and House of Jazz used the Brewery's warehouses for their shows. Realising there were so many talented designers that needed help getting funding and shows produced, Lulu decided to do something about it and in 2000 the ground-breaking Fashion East project was born.
Q – What does London mean to you?
'It is simply the most exciting city on the planet.'
Chris Dow, Closed Loop Recycling
Chris Dow is managing director of Closed Loop Recycling, an innovative and state-of-the-art UK plastics recycling company. An Australian entrepreneur, Chris came over to the UK in 2004 when closed loop recycling infrastructure was almost non-existent.  Using his extensive business development and senior management experience, as well as his passion for the environment, he managed to secure funding and build his first multi-million pound Closed Loop Recycling plant, developing new technologies and supporting the fledgling UK recycling industry. Chris has become an expert in waste management and recycling and regularly advises government bodies and industry. He is also a regular media commentator.
Q – What is London's best kept secret?
'All the little cafes and bars around the streets of Shoreditch.'
Contact