London & Partners extend strategic network in bid to stay the world's no. 1 major events destination

The Major Events team at London & Partners, the Mayor of London's official promotional agency for the capital, has today announced three new Strategic Partners. G4S, Icon and SMG Insight/YouGov will all have the opportunity to advise on the events strategy for the city in the lead up to, and long after, the 2012 Olympic & Paralympic Games, working closely with the Major Events team who are responsible for developing and attracting major sporting and cultural events to the capital.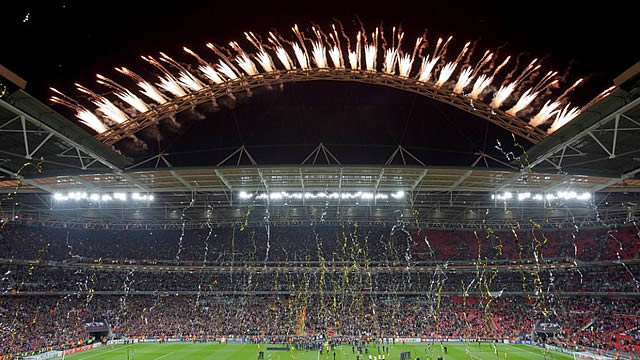 The three new Strategic Partners will join existing partners Pitch and Aggreko, who will continue their relationship with the London & Partners' Major Events team. Each of the Strategic Partners has been appointed within categories which cover business sectors involved in creating world-class events. G4S will be a partner in the Safety & Security Solutions category, Icon in the Branding & Event Solutions category and SMG Insight, in partnership with YouGov in the Research & Evaluation category. Pitch and Aggreko will continue as Public Relations & Communications and Power & Temperature Control partners respectively.
Strategic Partnership status is an endorsement of excellence and recognition of a shared aspiration to make London recognised as the best big city on earth and its events the most exciting and unique in the world. As international leaders in their respective fields, strategic partners will have the opportunity to drive, advise and shape the events strategy for London in the lead up to 2012 and beyond.
Iain Edmondson, Head of Major Events, said: 'Our role is to bring and create the world's most exciting sporting and cultural events to London. The Strategic Partner programme will play an absolutely central role in that. By widening our strategic partnership network to include G4S, Icon and SMG Insight with YouGov, we benefit from the kind of sector-specific knowledge and international expertise that can only strengthen our overall proposition.'
The Major Events team at London & Partners provides a 'one-stop-shop' central point of co-ordination and leadership for securing and delivering major events and has been involved in many of London's most high-profile sporting and cultural events. In 2011 alone the team have already worked with major events such as the BWF World Badminton Championships, the ITU World Championship Series Triathlon London and the UEFA Champions League Final.
Over the next year, the Major Events team will play an important role in assisting the Mayor and the Olympic Park Legacy Company to make key decisions necessary to secure major events for the Olympic Park and its venues, demonstrating a balanced portfolio of social and economic benefits. The three strategic partners announced today will play a key role in this process, providing different qualities and expertise.
Branding & Event Solutions partner Icon have over 60 years' industry experience defining, designing and delivering environmental branding and live event requirements. Recognised as a trusted market leader in branding implementation, Icon help organisations bring their own brands to life.
John Francis, Managing Director, Icon said:
'The chance to become a strategic sponsor of London & Partners was an ideal fit with Icon's plans to further develop our portfolio in event branding, production and overlay and to maximise the huge potential of the huge networking opportunities it will offer. We are delighted to be part of this growing organisation and the exciting prospects it offers'.
Strategic Partner for Research and Evaluation, SMG Insight, in partnership with YouGov, deliver leading edge B2B and B2C research and consulting solutions for world-leading sports governing bodies, sponsors and sports investors in order to meet their strategic and business objectives.
Founder and Managing Director of SMG Insight, Frank Saez, also commented on the partnership: 'We are very excited to be have been selected by London & Partners as the exclusive Strategic Major Events Research and Evaluation partner. We believe this endorsement reflects our brand values as best-in-class provider of research, and we welcome and hope to bring our expertise and contribute towards the important strategic evaluation of major events.'
G4S, Strategic Partner for Security and Safety Solutions, is the world's largest international security solutions group, providing integrated solutions to security challenges from risk assessment to the delivery of comprehensive safety and security solutions.
Ian Horseman Sewell, Director, Major Events at GS4 said:
'Having recently been appointed as Official Provider of Security Services Provider to the London Olympic & Paralympic Games, we are have a global programme delivering safety and security solutions to the world's largest and most complex events.  London is at the heart of our strategy and we look forward to further enhancing the Capital's well-earned reputation as a world class events destination.'
Notes to Editors
About London & Partners
London & Partners is the official promotional agency for London attracting and delivering value to businesses, students and visitors. London & Partners is a not-for-profit public private partnership, funded by the Mayor of London and our network of commercial partners.
Our remit is to drive leisure and business visitors as well as bidding to secure major events in London, we can unlock the city for overseas businesses who want to set up or expand in London and we promote the capital's world class universities to international students.
About SMG Insight/YouGov
SMG Insight, in partnership with YouGov, is focused on providing high quality research and consultancy to support the sports and leisure industry, providing solutions to sponsors, rights-holders, brands, agencies and investors in the field.
SMG Insight's full-service research offering draws upon YouGov's proprietary international panel of over three million consumers, allowing us to provide high impact, robust and credible market intelligence.
SMG Insight's expertise is diverse, wide ranging, and tapping into YouGov's expertise and tools makes our research and consulting services highly effective. Through partnership, SMG Insight offers a combination of thought leadership, strategic insight and comprehensive high quality data analysis that enables clients to achieve a higher return on investment from sports sponsorship, investment and marketing.
SMG Insight, in partnership with YouGov, operates in the US, Europe, Scandinavia and the Middle East.
About Icon
With over 60 years' industry experience, Icon is one of the world's longest established branding implementation agencies. We define, design and deliver environmental branding and live event requirements. Our brand is all about taking this proposition to the next level – being recognised as the trusted market leader helping organisations bring their own brands to life.
About G4S plc
G4S, the international security solutions group, has built up a high profile reputation for the provision of security solutions across the world. Its unrivalled geographic footprint and first-hand experience of the key security issues facing businesses and individuals in a broad range of markets means that it is uniquely placed to advise on identifying and managing risks.  For more information on G4S visit www.g4s.com
About Pitch
Pitch is the UK's leading sports and sponsorship communications consultancy. Pitch has extensive experience of London-based projects having represented a number of sporting organisations and venues in the capital, including Chelsea FC, Lord's and Wembley Stadium. The agency has also promoted a range of major events in London such as the Wembley Cup, NBA Europe Live, the World Gymnastics Championships, Brazil v Argentina at Emirates Stadium, Wasps v Leinster at Twickenham, and the London Restaurant Festival. For more information visit www.pitch.co.uk
About Aggreko
Aggreko plc is the world leader in the supply of temporary power and temperature control solutions. Aggreko provides 24/7 availability and service support with approximately 3500 employees operating from over 133 locations. In 2008 we served customers in over 100 countries, and had revenues of approximately £950m (€1.2b). Aggreko plc is listed on the London Stock Exchange (AGK.L) and headquartered in Scotland. For more information, please access the company website at www.aggreko.com
Contact