London gets a badminton makeover
Today, two giant chalk drawings appeared on the picturesque landscape of Primrose Hill. The 50 foot images which depict two giant badminton players are the first of their kind to be attempted in London and have been drawn to celebrate the YONEX BWF World Badminton Championships, which is coming to London's Wembley Arena between 8-14 August 2011.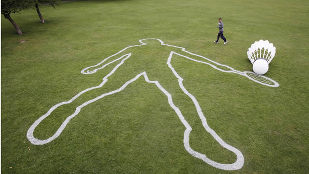 The giant badminton players were created using natural chalk, with drawing beginning at 6am this morning and taking 4 hours to complete. The drawings mark a new level in environmental illustration, not only are these made with all natural material but they were animated with the arms moving and a human shuttlecock running in-between. Using heavy duty paint rollers and an acute eye for detail, Curb, the specialist environmental agency, created the pioneering image in one of London's most prestigious and well-known Royal parks.
The images captured this morning, are part of an on-going awareness campaign ahead of the 2011 World Badminton Championships at Wembley Arena. After leaving Primrose Hill, the giant shuttlecock, manoeuvred by humans, weighing over 30kgs and measuring over 10 feet tall, appeared at various iconic locations in London including Regent Street, Southbank and outside Wembley Arena.
The YONEX BWF World Badminton Championships hosted in Wembley Arena on the 8-14th August, provides an opportunity to see the world's top Badminton players in the same venue as the 2012 Games a year early.
The Mayor of London Boris Johnson said:
"London is set for one of the biggest sporting years in its history and sports fans are already enjoying a bumper period thanks to international events like the World Badminton Championships. With more than 200 nations competing at the historic Wembley Arena next month, athletes and fans alike can expect the warmest of welcomes. These championships add to London's status as the most exciting major events city in the world. So shuttles at the ready for a superb tournament."
Nathan Robertson, British Olympic hopeful comments:
"I am very excited that the World Championships are coming to London this summer. Wembley Arena will be a great venue and no doubt draw a huge number of badminton fans. I expect there will be a brilliant atmosphere with the home support possibly being the best any UK player has heard in this country. All the best players in the world will be attending the Championships as its the tournament with the largest number of ranking points available in the Olympic qualifying race. The fact that the Olympics will be held in the same venue 12 months later will give players even more motivation to do well at this years' World Championships. It will also be my last World Championships so there will be no better place for myself to have a fantastic last Worlds."
Notes to Editors