The world watches as London counts down to the wedding of the decade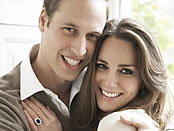 Today marks 100 days to the wedding of HRH Prince William and Catherine Middleton. As we count down to the big day, London prepares for the eyes of the world to be fixed on the capital.
Visit London, the official visitor organisation for the city, has estimated that in excess of 600,000 additional visitors will flock to the city for the special day, generating an additional 30-50 million pounds in economic benefit for London.
London's tourism industry is busily preparing with a range of hotel offers, special events and wedding packages to capitalise on this historic event.
Start the celebrations early in the majesty of the Royal Albert Hall, as it hosts 'Music to Celebrate a Royal Wedding' with the Royal Philharmonic Orchestra, or sample a taste of luxury with a royal afternoon tea. Tea Royale at The Langham combines the award-winning Palm Court experience with treats such as lobster, cucumber and fennel pollen sandwiches, while Ten Manchester Street in Marylebone invites guests to dine on edible gold leaf.
Book your trip now to ensure a place on the sidelines for the big day. Select from a range of hotel offers from top London locations. St James's Hotel and Club is combining their accommodation package with afternoon tea and a London Walks tour through the hidden courtyards, secret passageways and antique arcades of the Old Palace Quarter.
'Right Royal Affair' at the Royal Garden Hotel combines a three night stay with complimentary use of the Soma Spa, sauna and steam room and free entry to neighbouring Kensington Palace, the official residence of princesses past, while 'A Modern Romance' at One Aldwych Hotel includes accommodation, dinner, a gift on arrival, and Champagne and treats to enjoy whilst watching the procession. There is also a tempting package from The Lancaster London which includes a Royal breakfast for two for a minimum stay of two nights.
Superbreak has teamed up with a host of London venues and travel partners to offer two and three night Royal Wedding weekend packages, or for more information on how to get the best deal and last minute rates, visit http://www.visitlondonoffers.com/royal-wedding-breaks
Find out how to follow in the footsteps of Kate and Wills, and get a range of insider tips to make the most of a Royal Wedding break at www.visitlondon.com/royalwedding
Notes to Editors
* These figures are based on the average leisure visitor spend figure which is approx - £67 per head, per day.
The economic benefit figure is based on the at least 600,000 visitors coming to London and spending the average amount.
Contact