Today, former Olympic Silver medallist and now BADMINTON England ambassador, Gail Emms joined the Yeoman of the Guard at the Tower of London to announce the player draw for the Yonex BWF World Badminton Championships, taking place at Wembley Arena on the 8-14 August this year.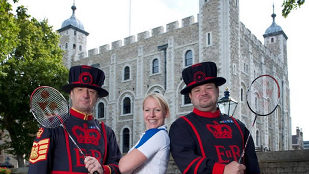 The eagerly anticipated draw has exclusively revealed this morning some fascinating head to head matches at Wembley Arena in two weeks' time, a year before the Olympics.
The draw as it affects England and Scotland players
Men's singles:
Rajiv Ouseph v (3) Peter Gade (Den)
Carl Baxter v Henri Hurskainen (Swe)
Toby Penty v Alistair Casey (Sco)
Women's singles:
Susan Egelstaff (Sco) v Michelle Li (Can)
Elizabeth Cann v Michelle Chan Ky (Nzl)
Sarah Walker v Pi Hongyan (Fra)
Men's doubles:
Chris Adcock & Andrew Ellis v Hugo Arthuso & Daniel Paiola (Bra)
Marcus Ellis & Peter Mills v Vladimir Ivanov & Ivan Sozonov (Rus)
Chris Langridge & Anthony Clark v Yoshiteru Hirobe & Kenta Kazuno (Jpn)
Martin Campbell & Angus Gilmour (Sco) v Ross Smith & Glenn Warfe (Aus)
Women's doubles:
Mariana Agathagelou & Heather Olver v Chan Tsz Ka & Chau Hoi Wah (Hkg)
Jenny Wallwork & Gabby White v Eei Hui Chin & Wong Pei Tty (Mas)
Alex Langley & Lauren Smith v Noelia Jiminez & Paula Rodriguez (Spa)
Mixed doubles:
Nathan Robertson & Jenny Wallwork bye
Chris Adcock & Imongen Bankier (Sco) v Toby Ng & Grace Gao (Can)
Marcus Ellis & Heather Olver v Alexandr Nikolaenko & Valeri Sorokina (Rus)
Last year's winners (all China)
Men's singles: Chen Jin.
Women's singles: Wang Lin.
Men's doubles: Cai Yun & Fu Haifeng.
Women's doubles: Du Jin & Yu Yang.
Mixed: Zheng Bo & Ma Jin.
For further details of the Championships and to book tickets check out www.badminton2011.co.uk
For more news check out www.badmintonengland.co.uk and www.bwfbadminton.org
The YONEX BWF World Badminton Championship provides a great opportunity to see the British team play on home soil and an opportunity to show real support to our British athletes in the lead up to London 2012.
All the British athletes have been training incredibly hard in the lead up to the Championships, with the likes of Nathan Robertson and his mixed doubles partner Jenny Wallwork, men's singles player Rajiv Ouseph and men's doubles pairing Chris Adcock and Andy Ellis wanting to give the home crowd a great show! Gail Emms will be supporting the British athletes , whilst having the opportunity to see the world's top badminton players compete at the same venue as the sold out 2012 Games a year early.
Adrian Christy CEO of Badminton England commented:
'We are proud to be hosting the YONEX BWF World Badminton Championships on home soil, inspiring Londoners to get behind our team one year out from the Olympic Games. The fact that the 2012 Olympic Badminton competitions are already sold out is a testament to the huge enthusiasm for the sport in the UK, and in terms of our Olympic preparation it doesn't get any bigger than this!
Gail Emms, commented:
'The Championships are a fantastic opportunity for the public to show support for the British athletes. With excitement building for 2012, the battle for the World Badminton Championships this year is set to be an exciting one, and I know how important our home crowd support will be in getting behind the players. I urge all badminton fans to lift the roof of the famous Wembley Arena!'
The Championships is being staged by BADMINTON England with funding and support from London & Partners, the official promotional agency for the city, and UK Sport, through its World Class Major Events Programme. The event signifies a key milestone for the capital, as the city continues to build its reputation as a top global sports destination.
Notes to Editors
UK Sport
UK Sport's World Class Events Programme distributes approximately £3.5 million of Lottery funding each year to support the bidding and staging costs of major events on home soil, as well as providing specialist support to organisers. Events are supported primarily based on their likely performance impact, but the broader impacts of events are also examined, to maximise the wider sporting, social, cultural, economic and environmental benefits, as well as sporting performance and legacy.
Over 100 events hosted by at least 35 different towns and cities will have been supported from 2007 until the London 2012 Olympic and Paralympic Games. These competitions will have attracted around 30,000 athletes and provided opportunities for over 27,000 officials and volunteers to gain international sporting experience and develop key skills ahead of London 2012. More @ www.uksport.gov.uk/events
BADMINTON England
Badminton is played by 4 million people in England and by ¼ billion people across the World. It is the 6th most participated sport in England and is also recognised as the fastest racket sport.
The BWF World Badminton Championships are part of one of the most ambitious and exciting trilogies of Major Events of any UK Governing Body of Sport, bid for and won by BADMINTON England as part of its preparations towards London 2012. The first two events were the European Team Championships 2009 staged at the Echo Arena, Liverpool and the 2010 European Individual Championships staged at the MEN Arena, Manchester.