Gordon Innes appointed as London & Partners Chief Executive Officer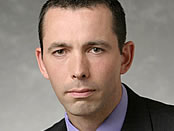 London & Partners, the official promotional agency for London representing tourism, foreign direct investment and higher education, has announced the appointment of its CEO.
Gordon Innes will lead the new agency, launched on 1st April 2011, by bringing together the remits of three separate agencies Visit London, Think London and Study London to create a single vehicle to promote London to visitors,investors and students with one voice.
Gordon joins London & Partners in the summer from the Department for Business Innovation and Skills, where he has led the team which oversees the UK's transition to a green economy and the creation of a Green Investment Bank.
Commenting on his appointment, Gordon said: "This is an amazing opportunity and an amazing time to work for London.
"I am delighted to be joining London & Partners and look forward to working with the Board, Executive team and industry to ensure that London & Partners is in a strong position to harness the opportunities to promote London in the lead up to and beyond the 2012 Olympic and Paralympic Games." 
The Mayor of London, Boris Johnson, said: "An extraordinary city requires extraordinary leadership. In Gordon, London & Partners has found the skills to take London's stunning new brand to project our story around the world. He joins at an amazing point in the capital's history. With the 2012 Games just over a year away we have this unique, once in a lifetime opportunity, to secure London as the best big city in the world for generations to come." 
Commenting on the announcement, Dame Judith Mayhew Jonas, Interim Chair, London & Partners said: "I am delighted to confirm the appointment of Gordon Innes, whose extensive experience in economic development and promotion perfectly compliments the remit of our new agency. I am confident that Gordon will ensure that London & Partners continues to deliver high profile and impactful activity that attracts and delivers value to businesses, students and visitors."
Notes to Editors
Gordon Innes joins London & Partners from the Department for Business Innovation and Skills (BIS).
He has held senior positions at BIS, the Foreign Office and UK Trade & Investment (UKTI). In UKTI, he was responsible for leading its network across the US, as well as the marketing and communications team that promoted the UK economy in North America. Prior to joining the public sector Gordon was a solicitor, both in the City and overseas.
Gordon is a British and Australian national who came to London to study and made it his home. Over the years he has also worked in Melbourne, Brussels, and New York. He likes travelling and theatre, and is a former competitive rower.