A great time and a fair deal - Mayor teams up with tourism sector to guarantee great value for visitors during 2012 Games
Some of the biggest names in the capital's tourism and leisure sectors, including The 02 Arena and Eurostar, have committed to fair pricing for visitors throughout the 2012 Games by signing up to the Mayor's new London Visitor Charter.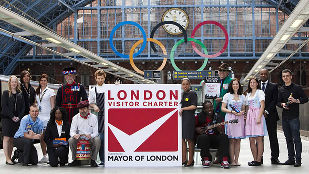 Launched today by London & Partners, the Mayor's promotional agency for the capital, the Charter is a first for London and any Host City. It commits its signatories to maintaining their prices during the period of the London Games and delivering their goods and services in an ethical, environmental and sustainable way. They will promote their Charter membership to help reassure tourists they are getting value for their money during their stay in the capital.
Over 30 big names in London's tourism sector have already signed up to the Charter including the world's most popular events destination The 02 Arena, Addison Lee, Tower of London, Hampton Court and Kensington Palace.  A number of individual bars, pubs and restaurants have also signed up including The Punch Tavern, a traditional London pub and the popular visitor destination Hard Rock café.
The New West End Company representing businesses in Bond Street, Oxford Street and Regent Street  has also come on board making them the first London business district to sign up to the Charter.
The Mayor of London Boris Johnson said:  "The London Visitor Charter demonstrates our determination to offer all our visitors both a great deal as well as a great time. It is fantastic news that London's businesses are signing up to this charter and signalling their commitment to ensure that when we welcome the world to London next year we make that welcome so memorable, so incredible that visitors come back to our great city again and again. So I call on all businesses in the capital's huge leisure sector to get on board and be part of this drive to tell our guests that London offers great value for money."
Sally Davies, The O2, Events Director said:  "2012 is going to be an incredibly exciting year for both The O2 and London as a whole.  As an Olympic venue, the 2012 Olympic Games will provide us with an once-in-a-lifetime opportunity to showcase our venue, entertainment district and services to a national and international audience.
"The London Charter reflects The O2, The British Music Experience and Thames Clippers on-going commitment to delivering the highest quality record-breaking and ground-breaking visitor experiences to be found anywhere on the world."
Nick Mercer, Commercial Director for Eurostar, and the Official International Rail Services Provider to London 2012, said: "We are committed to the London Visitor Charter and the principles of fairness and transparency.  We have opened our sales more than a year in advance and introduced a simple, competitive range of fares so that as many people as possible can come and enjoy this once in a lifetime event.  We are already seeing high demand for our services and expect to carry hundreds of thousands of spectators from the continent during the Olympic Games." 
The Charter is being promoted and championed by London & Partners the Mayor's promotional agency for London. Martine Ainsworth-Wells, London & Partners Marketing and Communications Director said: "We're urging all our consumer facing businesses to sign-up to the charter. By joining the Charter it is a clear demonstration that they want to work with us to create the best experience possible."
Please click through for more information on the London Visitor Charter and the London Visitor Charter sign up form.
Notes to Editors
For more information about the London Visitor Charter and the partners already signed up visit http://www.londonandpartners.com/media-centre/
The list of partners so far signed up is below:
Eurostar
Addison Lee
London Transport Museum
Tom's Kitchen Chelsea
Tom's Kitchen Somerset House
Tom Aikens Restaurant
The London Pass
EDF Energy London Eye
SEA LIFE London Aquarium,
London Dungeon
Madame Tussauds
Bavarian Beerhouse
London Canal Museum
The Punch Tavern
Hard Rock Café - London
New West End Company
Tower of London -  Historical Royal Palaces
Hampton Court Palace - Historical Royal Palaces
Banqueting House - Historical Royal Palaces
Kensington Palace - Historical Royal Palaces
Kew Palace - Historical Royal Palaces
London Walks
The O2 Arena 
Thames Clippers – whole fleet
The British Music Experience
St Martin's-in-the-field
St Martin's-in-the-field – café and restaurant
The Language Centre
Geffrye Museum
London & Partners is the Mayor of London's official promotional agency for London attracting and delivering value to businesses, students and visitors. London & Partners is a not-for-profit public private partnership, funded by the Mayor of London and our network of commercial partners.
Contact
Information for the media is available from Leona Janson-Smith in the Mayor's Press Office on 020 7983 4716 / leona.janson-smith@london.gov.uk or Chloe Couchman, Senior Communications Manager, London & Partners, (0)207 2345727/ ccouchman@londonandpartners.com (contact details for media only – not for publication)