Countdown to Christmas with a slice of London up for grabs!
To celebrate the festive season, London & Partners is delighted to announce the launch of this year's Advent giveaway. From 1 - 25 December, the capital's promotional organisation will be running a virtual Advent calendar on www.visitlondon.com with some great opportunities to win an array of amazing prizes.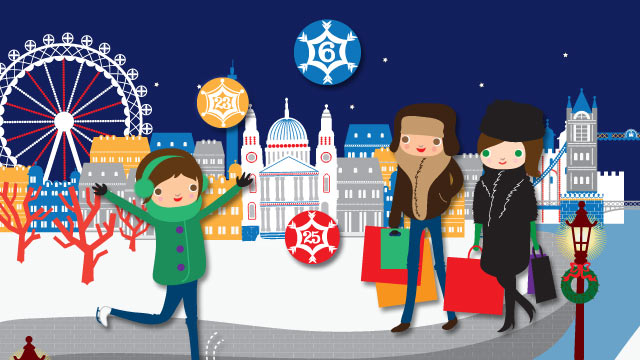 Each day the site will unlock the next fantastic prize which will range from theatre tickets and overnight stays to indulgent shopping experiences.
Theatre tickets available to be won include top London shows such as Shrek and La Soiree – paired up with nights at some of London's finest hotels including the indulgent Cavendish, and Elite Hotels. This is a London experience not to be missed!
For an exhilarating trip to London, gather your friends and you could be in with a chance of winning an entire RIB voyage speedboat adventure on the Thames. Also on offer are a series of once-in-a-lifetime dining experiences at top London restaurants, and mouth-watering John Lewis hampers which will set you up for the festive season.
Prizes also include private tours of London attractions, as well as an exclusive preview of a brand new wizardly attraction which won't be opening until spring 2012.   
You could also be treating yourself and a friend to a 'Diamond on the Soles' pedicure in the double treatment room at Brown's Hotel - an ideal post-Christmas shopping-pampering session!
Why not start your sales shopping early as hundreds of pounds of shopping vouchers for top retail destinations including Stratford Westfield, and Seven Dials are also on offer. And if you like eating out, there is the perfect prize for you – a whole year's worth of dining in London's Opera Quarter.
For more information on what there is to see and do in London this Christmas, and to enter the daily competitions go to www.visitlondon.com/christmas-competitions
Notes to Editors
The first competition goes live on 1 December 2011, and there's a new competition to enter each day until 25 December 2011.
There are a mixture of prizes which can only be won on that day, and others which are open for entries for longer periods.
Follow @visitlondon on twitter and facebook.com/visitlondon to keep updated with the latest competitions on offer.
Information on terms and conditions is available at www.visitlondon.com
The illustration for this year's advent calendar has been designed by Tina Mansuwan, a graduate of St Martin's College
Contact