Deputy Mayor of London reaches out to Chinese Businesses for 2012 and beyond
The Deputy Mayor of London, Richard Barnes is set to visit Shanghai and the region from the 7-18 November as part of a tour to promote London as the best big city on earth. The tour will also focus on meeting with a number of Chinese businesses to explore on-going opportunities available as part of the 2012 Olympic Games legacy in the UK capital.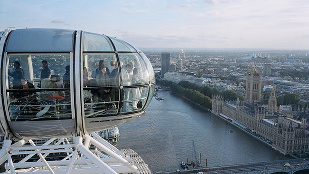 The Deputy Mayor will be joined by representatives from London & Partners, the Mayor of London's official promotional organisation for the capital, which was established in April of this year and is tasked with promoting London to visitors, students and business investors.
The Mayor of London is fully committed to strengthening this relationship and the tour will be aimed at forging links with key Chinese investors and commercial partners from creative, financial, education and green sectors to secure long-term investment into London. During the tour, the Deputy Mayor of London will also promote promotional projects and initiatives which help Chinese companies turn these visions into reality.
Activities range from meetings with key Chinese businesses, such as clothing giant Meters Bonwe and food manufacturers Yurun, as well as discussions with other major business players within the construction, finance and hi-tech industries. The Deputy Mayor of London and London & Partners will be looking to engage with a range of businesses across the trip to see how they can explore the potential for companies to invest in London and use it as a gateway for their own international expansion.
Deputy Mayor of London Richard Barnes said: "China is one of the fastest developing markets in the world, and it is vital for the future prosperity of the capital that we establish firm and productive relationships with Chinese businesses.
"London is one of the world's truly global financial centres and is the best big city in which to do business, and I will be impressing upon Chinese industry leaders that with the 2012 Games just around the corner, there has never been a better time to invest in the capital."
Jeff Cao, Head of Asia Pacific for London & Partners added:
"We are delighted to be supporting the Deputy Mayor in his trip to China. We are looking forward to meeting with and engaging a broad range of new businesses across the period of the trip and highlighting just what an ideal launch pad London is for Chinese companies who are looking to globalize. In the last three years we have helped over 60 Chinese companies successfully set up or expand business in London.  Companies include Alibaba.com, Haier, Bank of China, Crystal CG, CCTV, China Daily and Xiking Group."
Already the third largest foreign direct investor into London, China has always enjoyed a special relationship with the UK's capital, sharing the unique experience of staging consecutive Olympic and Paralympic Games - in Beijing 2008 and the future Olympic and Paralympic Games in London next year. London is also a magnet for Chinese students looking to further their education and is ranked Number 1 for the number of international students in London.
London has committed to making the 2012 Olympic and Paralympic Games the greenest ever and to achieving a lasting physical, social and environmental legacy. To date, over 5,000 jobs have already been created as a result of foreign direct investment into London on the back of Olympic opportunities.
Notes to Editors
Contact