London showcases the capital's magic for 2012
London & Partners, the capital's official promotional organisation, is joining forces with other London businesses to showcase the magic that visitors will be able to experience in the capital in 2012, at World Travel Market 7 – 11 November 2011.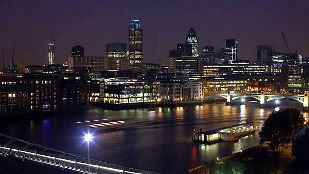 Representing the capital alongside the official visitor organisation will be May Ken Bel, Bateaux London, Ripleys Believe it or Not! and Late Night London.  A host of other London businesses will also be showcased within the London pavilion, representing a range of visitor attractions and services, including Maritime Greenwich, Historic Royal Palaces, London Pass, Wimbledon, The Cutty Sark, City Cruises, Encore Tickets, Group Line, Golden Tours and The Original Tour.
2012 is set to be one of the most exciting years in London's history. Not only is the capital host to the 2012 Olympic and Paralympic Games, it will also be a focal point for the Queen's Diamond Jubilee celebrations as well as many other fantastic events throughout the year.
World Travel Market will be the launch-pad for the release of London & Partners annual 'What's New' press briefing, which covers all of the latest news, events and openings set to take place in 2012
In addition, the team will launch the new travel trade guide and the new and improved travel trade website which has up to date itineraries and more information than before – all great tools for the industry to sell what's on during this magical year to their customers.
Visitors to the stand will also be able to discover more about the Limited Edition London campaign – an exciting programme of once in a lifetime opportunities, as well as new hotels, attractions, events and shows– all offering inspiration on what there is to see and do in London in 2012.   
Representatives will also be on hand from Bateaux London who will be talking about a series of exciting new products to tell the trade including their involvement with the Diamond Jubilee next June, and central London attraction Ripleys Believe it or Not! will be telling more of their unique offers for next year.  Late Night London who have recently launched their new website, will be discussing how they can help make the 2012 experience a special one at their many bars and event spaces at their unique selection of restaurants, clubs and bars throughout London's West End and City.
May Ken Bel, the serviced apartment company will be launching Claverley Court, a brand new development of sixteen custom designed apartments set to open in Knightsbridge this Christmas after two years of planning and creating.
The Leisure Pass Group will also be selling the ever-popular London Pass on stand with 20% of all takings going to official World Travel Market charity Just A Drop.
London is set to have the most magical year and the capital will be host to many events, exhibitions and much more. With so much to see and do, come and find out how to encourage visitors to come and see the sights now!  
Notes to Editors
London spokespeople will be available for interview during WTM, to arrange an appointment or for further information please contact:
Jo Geneen
PR Manager
London & Partners
T: +44 (0)20 7234 5824 / +44 7920 759 019  / jgeneen@londonandpartners.com
Contact