London & Partners to launch new 'Limited Edition London' VIP card at EIBTM
As part of their on-going Limited Edition London campaign London's official Convention Bureau London & Partners (previously known as Visit London) will be giving away over 120 exclusive loyalty cards which entitled event planners and buyers to exclusive access and special giveaways.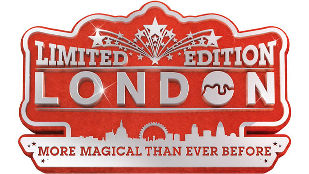 The cards will be given out to event planners that make an appointment with London & Partners or any of the 30 partners on their stand (G200) at the upcoming EIBTM trade show in Barcelona.
The glossy red cards will give event planners VIP access to experiences and services not usually available. Examples include the iconic Dorchester Hotel which celebrates its 80th Anniversary (April 1931) this year. To commemorate the hotel's anniversary celebrations Bar Manager Giuliano Morandin has created a cocktail from a recipe book stowed in the hotel's archives. The Limited Edition London card will entitle the card holder to sample two complimentary 'Dorchester of London' cocktails at the decadent Bar at The Dorchester.
Another offer is 50% off a weekend spa break at Hilton London Heathrow Airport Terminal 5 which includes 1 night accommodation, full English breakfast in The Gallery, Dinner with unlimited access to Imagine Spa Thames Valley which is at the hotel. Another unique offer with the card is iconic Arsenal Football Club – Emirates Stadium who will be offering a limited number of free tours of the stadium between now and next July. 
The London & Partners stand will hold over 30 different partners on the stand at the busy trade show and includes iconic London venues such as newly renovated Wyndham Grand London Chelsea Harbour, The Roof Garden's in Kensington, ExCeL London and The Great Connaught Rooms.
Head of Business Development Europe, Barbara Jamison said:
 "For business visitors there really hasn't been a better time to come to London either for business or to have a recce for future events. There are so many one off and unique moments taking place from the Queen's Diamond Jubilee in June of next year to all the various cultural events and activities around the cultural Olympiad. The Limited Edition London card will highlight all the amazing offers that are here and highlights just what an affordable destination London still is for events and incentives."
As well as the VIP Limited Edition cards, London & Partners will also be giving away the new London Event Planner's Guide 2012 which is the official directory for London's convention bureau. The well-established and highly-regarded annual directory which is nick-named 'London's events bible' is London's official guide to London's diverse range of meeting spaces, incentive offers and conference and events facilities.
As well as actual trade show London & Partners will also be hosting an exclusive networking event at one of Barcelona's most prestigious bars called Dry Martini. With its own speakeasy and world renowned mixologist it's cited as one of the top cocktail bars in the world – the event will give event planners a chance to meet the London CVB team as well as the 30 strong partners who will also be attending. To find out more about the event or if you are a qualified EIBTM hosted buyer than please register at events@londonandpartners.com.
Please click through for more information about the the range of EIBTM offers.
Contact