London is World's Top Destination for Academic Excellence
Today, the Times Higher Education World University Rankings revealed that seven universities in London are listed in the top 200 – more than any other city in the world.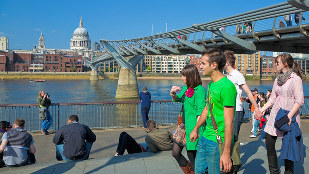 London's academic offering for international students now extends across a range of subjects from business to science and fashion to technology. With over 105,000 international students from 214 countries, London is the leading destination for higher education.
Following in London's footsteps, Boston is home to five while Hong Kong and Paris both host four.
Gordon Innes, CEO, London & Partners, the capital's promotional agency for higher education, tourism and inward investment commented on the rankings,
"We are delighted that London remains the top destination for international students with seven universities listed in the top 200. London can not only offer international students the highest standard of education across a range of subjects, but also has a world class cultural offering and opportunities to engage with global brands and businesses."
The seven universities in the top 200 are:
• Imperial College London (ranked 8)
• University College London (ranked 17)
• London School of Economics and Political Science (ranked 47)
• King's College London (ranked 56)
• Royal Holloway, University of London (ranked 107)
• Queen Mary, University of London (ranked 127)
• Birkbeck, University of London (ranked 149)
London & Partners is continuing to proactively promote London's universities and through a recently launch alumni programme, is identifying opportunities for students to access global businesses and provide support for those who wish to start their own business.  
Notes to Editors
The full ranking can be found here: www.timeshighereducation.co.uk/world-university-rankings

Contact
Jacqueline French – jfrench@londonandpartners.com / 020 7234 5844