Capital announces interest in dot London top level domain application
London has today announced its interest in applying for the 10 year ICANN licence to operate a new gTLD (top level web domain) for London. London will be joining a number of other cities who have expressed their interest in applying for their relevant city gTLDs including New York, Paris, Sydney, Rome and Berlin.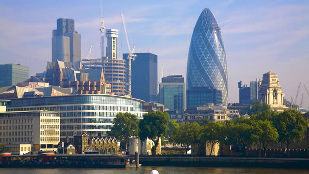 London & Partners, the official promotional agency for the capital, working with the Mayor of London, is leading this process. During this initial analysis phase, London & Partners will:
• Identify the benefits dot London could bring to London
• Analyse operational, funding and revenue models
• Consult with London boroughs and city services, brands and commercial organisations regarding the uses of second-level dot London domains
• Engage with community and potential customer groups
The Mayor of London is keen to see a greater use of the digital world to deliver more effective public services for the city, and sees this as a potential opportunity to build on London's position as a global centre for digital innovation.
In addition to enhancing the promotion of the capital, London & Partners is investigating what opportunities the ownership of the gTLD licence could bring in terms of harnessing commercial revenue streams and new job creation, whilst ensuring value for money.
Commenting on the application, Gordon Innes, CEO, London & Partners said, "London has always been seen as a city that leads on digital innovation and our interest in applying for dot London demonstrates our commitment to maintaining this position. We believe that owning the dot London gTLD will not only generate increased opportunities for the promotion of the capital, but will achieve benefits for businesses and organisations across the capital."
Kulveer Ranger, Digital Advisor to the Mayor commented, "Ownership of the dot London domain could offer a tremendous opportunity to reinforce London's position as a global centre for digital innovation, generate revenue and bring about new employment opportunities. There is great potential for engaging with Londoners and the Mayor is interested to understand better what people think this opportunity would mean to them, as well as the marketing opportunities and the business benefit for the capital as a whole."
ICANN will receive applications between 12 January and 12 April 2012 and this will be followed by a review process taking anything from 9 – 20 months.
Notes to Editors
The Mayor of London is determined to enhance London's position as a leading world city for digital innovation and is committed to supporting areas of commercial growth and job creation.
The Mayor is also keen to see all his agencies and functional bodies maximise their engagement with and use of the online world to deliver more efficient public services whilst ensuring value for money.
Contact
Jacqueline French
London & Partners – press office - 020 7234 5710
jfrench@londonandpartners.com - 0207 234 5844