Get the London Makeover at IMEX
London & Partners, the official promotional agency and CVB for the UK's capital, are inviting  IMEX America vistors to experience London's renewed, revitalised and oh-so glamourous offer for business and event planners through a brand new interactive 'spa bar'.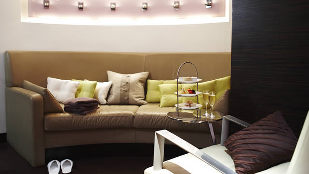 With less than one year to go to the 2012 Games, London's official convention bureau and event solutions service (previously known as Visit London) are looking forward to adding a touch of style and glamour to the international trade show in Las Vegas which takes place from 11th – 13th October 2011.
2012 is set to be an exciting year in the capital, and as London gears up to host the greatest show on earth, event planners have a unique opportunity to capitalise on the 'halo' effect being felt by the Games. By planning their event in a revitalised London, they can take advantage of the raft of improvements being made from enhanced transportation links, brand new attractions and state-of-the-art hotels, as well soak-up the 'buzz' that will be felt around London before, during and after the Games. Over the next twelve months London will also play host to some of the world's most exciting events including the Queen's Diamond Jubilee, Charles Dickens' 200th anniversary, Shakespeare's Festival and the Cultural Olympiad.
Chris FJ Lynn, Sales & Marketing Director, North American & Emerging Markets said:
"The legacy of 2012 will also bring with it a number of exciting new openings across London which will benefit visitors and event organisers for years to come. Visitors to the London stand can find out more about Europe's largest indoor shopping mall, Westfield Stratford London, the reopening of the historic Cutty Sark, the multi million dollar Kensington Palace refurbishment and the launch of the Shard, set to be London's tallest landmark – as well as a host of new hotels and event venues."
In celebration of London's continuing city 'makeover',  IMEX America visitors will be able to make an appointment and experience an exclusive pampering treatment at the London & Partners 'Spa Bar', sponsored by the AWAY Spa at London's new W Hotel in Leicester Square. In keeping with the quintessentially British theme of W London, the signature product lines at AWAY Spa are by British brand REN.The 'Spa Bar' will offer visitors a place to recharge, get glamorous and experience a touch of luxurious London. Free treatments on offer will include:
- The Royal Treatment –  A Kensington Palace 'facelift' – you'll feel like you had a million dollars spent on you too!
- The Time Treatment – The home of time is 'Greenwich' – while away the minutes with this soothing Indian head massage
- The 2012 Treatment  - Get ready, get set and race to have your mini manicure
- The Diamond Treatment – The Jewel in the Crown of spa treatments the Jubilee Celebration Hand massage – fit for a queen!
- The Dickens Treatment – don't get your shoulders into an 'Oliver' Twist – relax and enjoy a shoulder massage.
Lynn added: 'The 2012 Olympic and Paralympic Games have been a catalyst for massive investment into the city and London & Partners can help event organisers to make the most of the unique new opportunities available when planning their event in London. London really does offer so much in terms of unique experiences and once-in-a-lifetime opportunities which just can't be found anywhere else."
London & Partners will be joined on their booth by over 12 top London venues and hotels. They include: Business Design Centre, Chelsea Football Club, ICC London ExCeL London, Grand Connaught Rooms, Grosvenor House, A JW Marriott Hotel, Guoman & Thistle Hotels, Late Night London, Millennium & Copthorne Hotels, Novotel London West, DMC – Spectra, The Queen Elizabeth II Conference Centre and the Wyndham Grand Chelsea Harbour.
London & Partners will be offering a number of activities and events on the their booth #1006 and will also be co-hosting a special Olympic's focused breakfast with ICC London ExCeL on Wednesday October 12th 2011 (8am breakfast) at Grand Lux Café Palazzo (Venetian Hotel). The event will give insight the exciting infrastructure changes being made to London to host the London 2012 Olympic Games, and how they will benefit the events industry. To register for the event – contact: info@excel-london.co.uk
Notes to Editors
London & Partners will be joined by a range of partners on the London stand; the Business Design Centre, Chelsea Football Club, ExCeL London, Grand Connaught Rooms, Grosvenor House, A JW Marriott Hotel, Guoman & Thistle Hotels, Late Night London, Millennium & Copthorne Hotels, Novotel London West, Spectra, The Queen Elizabeth II Conference Centre, Wyndham Grand Chelsea Harbour and Turopa.
About London & Partners: London & Partners is the official promotional agency for London attracting and delivering value to businesses, students and visitors. London & Partners is a not-for-profit public private partnership, funded by the Mayor of London and our network of commercial partners.
Our remit is to drive leisure and business visitors as well as bidding to secure major events in London, we can unlock the city for overseas businesses who want to set up or expand in London and we promote the capital's world class universities to international students.
Contact