London Q1 tourism results show positive numbers boost in visits and expenditure
The latest provisional figures from the International Passenger Survey (IPS) reveal that London welcomed 3.11 million visits in quarter one of 2011 (January – March).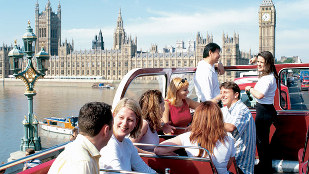 This represents a year on year increase of 5% in comparison with quarter one 2010.

Visits from Europe were up 3.5% and North America continued its steady growth with an increase of 4.1% (to 375,000 visitors in the quarter). A positive overall growth in Asia Pacific heavily influenced the overall figures with one of the capital's key markets; China, revealing that visits had almost doubled compared to the same time last year.
With visitor numbers trending very positively, the economic benefit measured in tourism receipts has grown even stronger and London has achieved an increase of 11.2% - an overall visitor yield of £1.81 billion for the quarter.
Leisure visitors saw an overall rise of almost 5% to approximately 1.4 million visitors with some of the capital's key markets revealing positive growth including France (8.3%), Italy (20.3%) and US (6.6%).
In addition to leisure visitors, the VFR market (visiting friends and relatives) provided the most eye-catching trend with a 20% improvement in tourist numbers, further evidence that this category is returning to London after a period of sustained recessionary decline.

London's business market also continued its post-recession recovery, with a 7.2% increase with markets such as the US, Italy, China and Brazil leading the trend. This growth could attributed to the halo effect of the Games with businesses, sponsors and NOC's (National Olympic Committees) all starting to activate their plans during the 2012 Olympic and Paralympic Games.
BRIC countries have continued to perform well following the increases throughout 2010 with around 100,000 visitors spending approximately £151 million, representing an growth of over 20% for both leisure and business visitors.
The positive results for the capital indicate a steady growth in both visitor numbers and expenditure, and hopes for continued growth for quarter two when the capital hosted both the Royal Wedding and the UEFA Champions League.
Andrew Cooke, Acting CEO, London & Partners said: "These extremely positive figures show sustained momentum for visitor numbers and spend.  The industry enjoyed a strong first quarter for the year and it is crucial that London & Partners take advantage of the spotlight on the capital in the run up to the Games to continue to promote the capital to both leisure and business visitors."
Notes to Editors
Contact