World's Smallest Pop Up Hotel Open for Business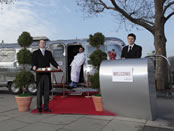 As British Tourism Week (15-21 March) gets off to a flying start, Visit London is pleased to announce that the World's smallest pop up hotel is open for business – for one week only!
Part of the Only in London campaign, Visit London is rolling out the (miniature) red carpet for five lucky winners who will each have an exclusive opportunity to spend a night in the pint sized hotel. The luxury pop up hotel was created with help from Radisson Edwardian Hotels and features all the things you would expect from a top London hotel including a dedicated concierge, check in desk, room service, a flat screen TV, sound system, fridge and dining room area, double bed with luxury bedding and en-suite facilities.
'Visitors to London have to opportunity to explore a vast array of attractions just a short walk from their accommodation when they stay in the capital. To celebrate this, we have decided to open our pop up hotel, literally on the doorstep of some of the capital's most iconic locations.' Commented Sally Chatterjee, Interim CEO, Visit London.
The pop up hotel 'guests' won the opportunity to stay in the hotel through a competition hosted on Visit London's website. Moving to a different location each night, the pop up hotel will be found at ZSL London Zoo, the South Bank, Alexandra Palace, Covent Garden and the Old Royal Naval College, Greenwich throughout this week.
Visit London's Only in London campaign celebrates the unique, one-off and incredible arrange of attractions and events that can only be experienced in London. Launched in spring 2009, the first phase of the campaign generated nearly £100 million in economic benefit to the capital and is set to run throughout 2010.
Find out more about Visit London at http://www.visitlondon.com or visit them at Best of Britain and Ireland at Olympia at Stand B50.
Notes to Editors
Only In London
Visit London's 'Only In London' campaign promotes the unique and diverse experiences that our capital city has to offer. Results for the first phase of the campaign show that the £2 million international campaign, launched in spring 2009, generated nearly £100 million in economic benefits to the capital – a return of around 50 to 1.
Contact