Visit London to team up with Haymarket to launch VirtualVenueVisitLondon.com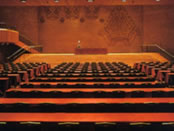 In the same month that the Mayor of London announced a new 2012 online calendar for cultural events, the events business sector has followed with the announcement that a new digital venues tool has been created which will help secure more events bookings to the capital pre and post 2012. Visit London the capital's official visitor organisation and convention bureau has teamed up with Haymarket Media Group titles Conference & Incentive Travel and Event magazine to launch a virtual venue tour website aimed at events organisers who are interested in bringing events and meetings to the UK's capital.
VirtualVenueVisitLondon.com is an interactive website which gives event buyers a chance to have a virtual tour or 'recce' of an events space without having to leave the comfort of their own office. Each venue featured on the site includes a short video with key elements of their building, venue configurations and contact details plus interviews with venue personnel.
The website will be officially launched at an event for over 400 events industry clients and suppliers which will take place on the evening of the 1st July 2010. The evening will be held in the beautiful gardens at Middle Temple, with sumptuous canapés and summer drinks provided by Beyond Food (formally known as Beyond Boyle). The event will be hosted by Visit London, in association with Conference & Incentive and Event magazines and is set to be a 'summer party' of the year.
Zanine Adams, Head Events Solutions and UK Sales at Visit London added: 'Visit London is looking forward to helping to launch VirtualVenueVisitLondon.com on the 1st July. This is a fantastic virtual tool which will help save time and money, but it's also a lot greener in terms of the amount of travel. We look forward to welcoming the industry to Middle Temple and celebrating this new innovative tool.'
Yasmin Arrigo, editor of C&IT added: 'as the countdown to 2012 begins in earnest, event planners across the globe will be looking for the very best event solutions in London and VirtualVenueVisitLondon.com provides the perfect platform to showcase the very best the capital has to offer.'
To register, please RSVP to Lindsey.Hawkins@haymarket.com by Wednesday 23 June. Places are limited to two people per company and subject to availability.
Notes to Editors
BEYOND FOOD
Formally Beyond Boyle, Beyond FOOD is a diverse and dynamic hospitality, communication and food retail company.
Contact
Press office - 0845 618 7274 / annette@beyondboyle.com
Beyond Boyle, the Beehive, City Place, Gatwick, West Sussex RH6 0PA