Visit London strengthens strategic relationship with Site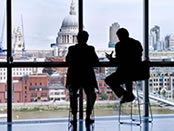 Visit London the official visitor organisation for the UK's capital today announced its ongoing strategic relationship with the global meetings and event professionals associations Site.

The global association represents the motivational events and business sector has been running for over 35 years and has over 2,200 members in 87 countries with 36 local and regional chapters.
As part of the ongoing support from Visit London, Head of Business Development Europe Barbara Jamison has been named as a new board member for the GB Site Chapter. Her responsibility on GB board will be Head of Membership where she will work to help build and develop the ongoing membership and communication from the GB Chapter as well as further global support with the Site community throughout the world.
Visit London's ongoing strategic investment has included a number of supporting projects including the re-branding of Site which took place last year and a number of events and activities at key trade shows in Europe and North America.
As the recession has seen many changes in the industry, Site GB Chapter are inviting the meetings community to re-look at services provided to the industry from a motivational aspect in the form of a campaign 'Site Expectations'.
 
'Working with motivational programmes has a differing expectation level than that of other group movements' said Fiona Chappell, Site GB Chapter President 'and the Board thought to change the format of the Chapter seminars from speakers delivering forecasts on trends to an interactive panel discussion, encouraging debate in a relaxed forum for both experienced and new members of this market segment. The first of these panel debates was held at the newly opened Park Plaza Westminster Bridge.  Entitled Site Expectations of Hotels, and expertly moderated by Martin Lewis, Managing Editor of M&IT the evening comprised of lively debate on the challenges faced by both suppliers and planners of motivational experiences. As a Board we are very much looking forward to the other two events in this series – Site Expectations of CVB's and Venues and Suppliers which will take place in September and October.'
Site President Brenda Anderson said 'Strategic partnerships are vital to associations like Site. In stepping up to a strategic partner level, Visit London demonstrates commitment to the motivational events segment. Clearly, Visit London and its member organizations place a high value and strong focus on creating valuable and unique experiences for incentive groups.'
 
Barbara Jamison added: 'I'm delighted to be joining the GB Chapter of Site as Head of Membership. Visit London recognises the unparalleled opportunity to partner with Site to connect to a wide global audience of event planners and business members who create motivational experience throughout the world. Many of the Site members look to London to bring business and events and we want to ensure that we provide both support and networking opportunities both now and in the future.'
Upcoming Site Events
Visit London will be hosting a SITE Global Chapter leaders reception on the Visit London Stand F400 at IMEX on the 26 May 2010 at 1.30pm.
Site members; friends and colleagues are also invited to meet for Site Nite Europe at the InterContinental Frankfurt on the evening of Monday, 24 May, 7:00 pm - 9:00 pm.  Site Nite provides an evening of reconnecting with colleagues and meeting new contacts in a casual cocktail reception format. Modelled after the tremendous success of Site Nite North America, Site Nite Europe stands poised to greet 500 industry professionals with their clients, including 100 IMEX hosted buyers.
Site Nite is a fundraising event dedicated to supporting the Site International Foundation on projects such as the Site Index, David Riddell Scholarship, white papers and education.  A new study pivotal to Europe will be announced at Site Nite in Frankfurt.
Site also invited all members to a cocktail reception on the Site Global Stand No F780 at IMEX at 3pm on Tuesday May 25th.
Notes to Editors
Contact