Visit London sponsors the 'Take me there Boris' viral campaign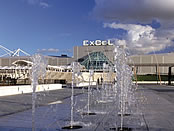 To show his support for the launch of London's first ever London International Conference Centre (ICC London ExCeL) Boris Johnson the Mayor of London has taken on the role of a virtual black-cab driver where he shares numerous interesting facts and stories about London's iconic landmarks. A series of seven viral films have been created with the Mayor which can be viewed on the site entitled 'Take me there Boris'. www.takemethereboris.co.uk

The films see the London Mayor take on the role of a city taxi driver navigating his way through the streets of London ultimately arriving to the site of London's first convention centre; ICC London ExCeL. The films which have been created by experience marketing agency, George P. Johnson (GPJ) in-house team the films have been sponsored by ICC London ExCeL owners ADNEC group and the London's official visitor organisation Visit London.
ICC London ExCeL will be launched in a ceremony next Thursday (24th June) which will be attended by the Mayor. The films are part of an overall 'London as centre of Excellence' campaign which has been produced to create awareness for the new venue and drive new business for the future.
Kevin Murphy, Chief Executive, ExCeL London said "We are delighted that The Mayor of London and Visit London have fully supported us to deliver London's first ever International Convention Centre at ExCeL. This is a significant and historic moment for the city and marks a new chapter in London's offer as a global events and business destination, enabling the capital to compete with other major world and European cities to win more large conferences and association events in the future"
Tracy Halliwell, Director of Business Tourism at Visit London said
"Visit London is very pleased to be involved and supporting the 'Take me there Boris' campaign. The launch of London's first ICC represents a new era in business tourism for London and an ability to generate large event business that London has in the past lacked the facilities to do so. We feel the film is a great way of sharing London's rich history with leisure and business visitors in a fun and entertaining way.'
'It was great to get Boris involved in the project and I think he really enjoyed being a cabbie for the day,' commented Andy Bass, Head of Creative, George P Johnson. 'We're excited about the 'Take me there Boris' campaign, it's a fun initiative and one we're confident will bring more people to the ICC London ExCeL both at launch and beyond.'
The viral goes live today and will work on two different levels; firstly driving awareness of the opening event and secondly driving people to the microsite so those unable to attend the exclusive VIP invite only event can watch it online at: www.excel-london.co.uk/icc/launchevent
Notes to Editors
Contact