Tourism buoyant despite travel chaos in Q2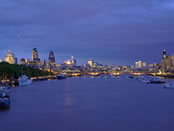 The latest provisional figures from the International Passenger Survey (IPS) reveal that London welcomed 3.55 million visits in quarter two.
The prolonged closure of UK airspace in April caused by the volcanic ash led to a 5% decrease in visitors compared to the same period last year. However, in the context of a 6.5% loss in operational capacity, London's performance can be viewed as relatively favourable.
During the quarter, total spend by visitors grew by 7.4% to almost £2.3m; partly due to additional spend from visitors stranded in the capital, unable to make their return journeys.
As in quarter one, the business market continued to perform well with visitor numbers up 4% and spend up 7%. The leisure market was the main casualty of Q2's flight disruptions with visitor numbers down by just over 6%, however spend was up 4.7% which equates to almost £50m in additional spend for the quarter.
Commenting on the recent figures, Sally Chatterjee, CEO, Visit London said,
'Despite the unprecedented travel disruptions in April, London's tourism remains buoyant. It is particularly rewarding to see that business travel is continuing to grow in the first half of this year following the economic worries seen in 2009. With so many challenges on the tourism industry, it is as important as ever that we continue to proactively promote the capital to both leisure and business visitors.'
Notes to Editors
Visit London media fact sheets can be found here - http://www.visitlondonmediacentre.com/facts_figures/media_facts_sheets/
Contact