Think London Attracts Record Number of Overseas Firms to UK Capital
Please note: In April 2011 Think London merged with Visit London and Study London to become London & Partners. These archive press releases are here for information only.
239 companies choose London in 09/10
US, China and India revealed as three biggest investors in the capital
Chinese job creation up 95% year-on-year
Nearly one quarter of total UK jobs generated in 09/10 were in London*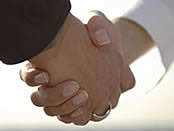 Think London, the foreign direct investment agency for London, brought some good news to UK plc today by announcing that it has attracted a record number of overseas investors interested in expanding or setting up business in London, with a 36% increase on last year's figures. Think London's Annual Review also revealed that the agency has created over 6,150 jobs for Londoners in the UK capital during 2009/10, securing FDI from 28 countries.
According to the Annual Review, the US remained the largest investor in London, with 63 companies and around 1,900 jobs, followed by China with 24 companies and a massive 95% increase in the number of jobs, from 220 to 428, created year-on-year. In third place was India with 23 investors and over 6% jobs growth. ICT sector investment proved the strongest, with 61 ICT companies choosing to set up in London. Business Services (37) and Financial Services (25) remained resilient despite the global economic downturn, re-enforcing London status as the world capital of business.
Commenting on the results, The Mayor of London, Boris Johnson, said: "Yet again London is proving itself the place to be for overseas investors attracted by its unique investment opportunities, its location to western markets, and a highly skilled workforce. Not only are we taking the lion's share of new UK jobs created by overseas investors, but Chinese firms have nearly doubled the number of jobs they provide since last year. This is an extraordinary achievement and both current and overseas firms setting up shop here are assured that I will fight for continued investment into London's infrastructure to make it an even better city in which to live and do business."
Over the last 14 years, Think London has assisted over 1,600 overseas companies from more than 40 countries around the world to establish a presence in London. Over the last year we have worked with: Aspire Systems from India, US electric car manufacturer Tesla Motors, Google, MIR3 and many more.
In June, Think London hosted Connect to London, a business programme bringing together 46 companies from 13 countries with a common interest in locating in London, looking specifically at the business opportunities associated in the run up to and beyond the 2012 Games. This followed on from the successful Route to 2012 business roadshow across North America, engaging with 135 potential investors and showcasing the numerous opportunities awaiting them in London.
Download the full Annual Review: Working smarter through collaboration
*Source: Ernst & Young's 2010 UK attractiveness survey
Notes to Editors
Contact
Please contact the London & Partners PR team.