Pinkies up! It's tea time in the Big Apple courtesy of Visit London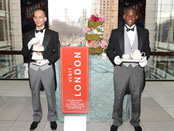 Visit London has taken a little slice of London to New York this week with the opening of the largest free afternoon tea event New York has ever seen.
The unique, limited-time pop up afternoon tea event will take place at the Time Warner Centre and New Yorkers are invited to come along to sample tea and cakes as well as getting a taste of London.
The pop up afternoon tea is taking place to encourage New Yorkers to hop across the Atlantic for their next vacation to experience all the unique attractions, events and neighborhoods that you can only find in London.
'We are extremely excited to be bringing a little bit of London to New York.' said Jacqueline French, Senior PR Manager, Visit London, "London is a city steeped in history and tradition, but is also on the forefront of the arts, entertainment, fashion and cuisine. Only in London can you see Van Gogh's Sunflowers for free, drink at Europe's longest champagne bar or watch a performance on the stage where Charlie Chaplin trod the boards. We hope New Yorkers will enjoy our afternoon tea event and take away a little bit of inspiration for their next visit to London.'
The Visit London pop-up afternoon tea will offer visitors the opportunity to find out more about London's art and culture, fashion and lifestyle, sport and outdoor activities, cuisine and events for 2010.  Visitors will be able to enjoy vibrant photographic displays and interactive technological elements as well as meeting travel experts from Visit London who can provide tips and advice about travelling to the British capital.
Notes to Editors
Contact