Only in London campaign generates £100 million in economic benefit for the capital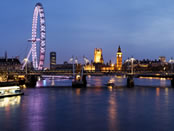 The capital has received a £100 million boost thanks to Visit London's successful 'Only in London' campaign which comes as latest figures also show tourist numbers have increased by over 200,000.

Results published today show the £2 million campaign, launched last Spring, generated nearly £100 million in economic benefits to the capital – a return of around 50 to 1.

More than 2.1 million holiday visitors came to London during the third quarter of 2009 – up 11 percent on the same period in 2008 – and spent an additional £172 million, 17 percent more than the previous year.
The capital's major shopping districts have also seen a welcome increase in trade, with the West End reporting sales up over eight percent on December 2008 and central London seeing a 12 percent leap on the same period. London and the West End continue to outperform the rest of the UK which recorded a rise of only around four percent.
Supported by the London Development Agency and led by Visit London, the international marketing campaign rolled out through the UK, Europe and North America in the summer promoting the unique features of the city as well as great value deals, due to the exchange rates of the euro and the dollar. The campaign was supported by an additional £400,000 from the four central London boroughs – Westminster, Camden, the City of London and Kensington & Chelsea – which represent around 50 percent of tourism spend in the capital.
Early indications of its enormous success saw the Mayor invest a further £400,000 in the campaign in November, extending its run until the end of March 2010.
Mayor of London Boris Johnson said:
'Clearly our campaign is hitting the mark. Despite tough times at home and abroad visitors continue to vote with their dollars, euros and pounds, maintaining London's position as the world's number one tourist destination. London's resilience and ability to buck the trend is down to many things, but I am confident that it has much to do with its unique heritage, a dynamic culture and so much to see and do whether you are here for a day, a week or longer. But we can never be complacent and, as these encouraging new results show, we must continue promoting our fabulous city around the world at every opportunity.'
Visit London Chief Executive, Sally Chatterjee, said:
'The Only in London campaign provided us with a strong platform to promote the unique aspects of London to visitors at home and abroad. The feedback from visitors has been incredibly positive and is reflected in the outstanding economic benefit delivered by the campaign. London is the world's most popular international city and we will continue to promote the capital proactively in the run up to the 2012 Olympic and Paralympic Games and beyond.'
Leader of Westminster City Council, Cllr Colin Barrow, said:
'This spectacular boost to London's economy has without doubt helped safeguard jobs and livelihoods at a time when we most needed it, and was a return on investment any banker would kill for. It just shows what can be achieved when we all pull together.'
Cllr Keith Moffitt, Leader, Camden Council said:
'I'm delighted to see that the 'Only in London' campaign is showing some great signs of success, and I'm really pleased to see good reports coming out about London's economy more generally, especially its visitor and tourist economy, which both play such an important part in Camden.
'We have shown our commitment to supporting businesses through the recession on many occasions, and  together with our neighbouring boroughs invested £400,000 to help this specific campaign, which is a measure of our determination to ensure that the tourism sector in Camden continues to thrive.'
Stuart Fraser, Chairman of Policy, City of London Corporation said:
'The City Corporation is delighted to have contributed to a campaign which has had such strong economic benefits not just to the City but to the capital as a whole.'
Cllr Barbara Campbell, Cabinet Member for Corporate Services at Kensington and Chelsea said:
'Tourism is a very important part of the economy in the Royal Borough of Kensington and Chelsea and we are delighted at the success of the 'Only in London' campaign.

'Kensington and Chelsea is a popular destination for Londoners and visitors alike as the borough offers a wealth of unique shopping, museums, events, occasions and heritage that is known the world over. This campaign allows us to showcase not only those famous parts of the borough, such as Portobello Road and South Kensington, but also some of the more unfamiliar areas of the Royal Borough.'
Notes to Editors
1.There have been solid rises in holiday visitors from London's key markets - Germany up 35%, Spain up 40%, and the US up 46%.
2.The Mayor continued to sell London in the US during his visit to New York last September  where he and Mayor Bloomberg signed a historic agreement between the two cities to co-operate in promoting their respective cities to overseas visitors.
3.Visit London is the official visitor organisation for London. A leader in best practice destination marketing, Visit London promotes the UK capital internationally, across Britain and to Londoners targeting leisure and business visitors. Visit London works in partnership with the Mayor of London, the London Development Agency, London Councils and the tourism industry. The £2m funding was additional funding to Visit London in recognition of the economic downturn. The timing of the campaign covers the period from May-December 2009.
4.The original estimate for economic benefit to be derived from the £2m spend was £60m (20/03/09). The £96m figure of economic benefit relates to a confirmed evaluation of both the £2m and £400,000 investment from the boroughs.
5.The £400,000 announced by the Mayor on 17/11/09 will be used by Visit London to run promotional campaigns in the UK and Europe from January to March 2010. The London Development Agency's investment was made as part of the Mayor's Economic Recovery Action Plan. Details of the Mayor's Economic Recovery Action Plan can be found at http://www.london.gov.uk/mayor/economy/recovery/
6.The LDA's Tourism Action Plan can be found at http://www.lda.gov.uk/server.php?show=ConWebDoc.1513
7.Other figures show £1 billion was spent in the West End over Christmas Period (Mid November – January Sales) and most retailers reported double digit growth.
For broadcast-standard video of London, please visit www.thenewsmarket.com/visitlondon. If you are a first-time user, please take a moment to register. Visit London footage is free for all editorial purposes.
High resolution images are also available free for editorial use at www.visitlondonimages.com
Contact