NFL to 'touch down' in Trafalgar Square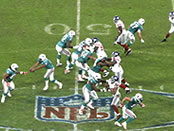 London is to host its first-ever NFL fan rally in the iconic Trafalgar Square. The one-day event will celebrate all aspects of the popular American sport including U.S. themed music, dance, interactive games and of course American-style food and drink.
The free-to-enter event will take place on Saturday October 30 and will be hosted by the famous US American Football team the San Francisco 49ers on the day before they take on the Denver Broncos at Wembley Stadium in this year's Pepsi Max International Series game. The game at Wembley Stadium marks the fourth competitive NFL match to be staged in the London.
Beginning at 1 p.m., the new event, which is supported by The Mayor of London and the official tourist board Visit London, will feature a wide range of entertainment and activities that will delight existing NFL fans and excite those who are new to the sport.
Mayor of London Boris Johnson said:
'There is huge enthusiasm for the NFL here in the capital and indeed across the UK, fans have visited the annual NFL Games at Wembley Stadium in their thousands and the sports popularity has grown from strength to strength. London is therefore delighted be hosting this event and bringing fans a little piece of American to life in the heart of London.'
Sally Chatterjee, CEO of Visit London added:
'London has a very strong connection with the United States as it's still the number one visitor market for both leisure and business travellers to the city. This free event gives even more fans a chance to celebrate the great sports we have in the capital.'
Alistair Kirkwood, Managing Director of NFL UK added: 'It's an historic, can't-miss event. It's the perfect way to get London pumped up for the big game the following day.'
Included among the activities will be:
• Performances by the San Francisco 49ers' cheerleaders, the Gold Rush
• Live music and DJs
• Interviews with NFL legends, including former 49ers stars Jerry Rice and Roger Craig
• On-stage appearances by current 49ers head coach Mike Singletary and team owners
• Interactive games that give visitors the chance to try their hand at American football
• Appearances by celebrity fans – including Marisa Miller, FHM's 'Hottest Woman in the World'
• NFL Commissioner Roger Goodell answering fans' questions
• Dramatic and historic NFL action on giant screens
• Competitions to win great NFL prizes
Kirkwood continued: 'This is the first event of its kind and we are very excited to showcase the passion, excitement and colour of the NFL to a broad range of people. It is a celebration of our game at Wembley the following day and we'd love to see London awash with NFL fans in their team jerseys.
'We expect many newcomers to the NFL to be able to come along and have a great time and we are creating a programme of events and activities to cater to all levels of NFL interest – even those who have very little idea about our sport. There will be something for everyone.'
Notes to Editors
Contact